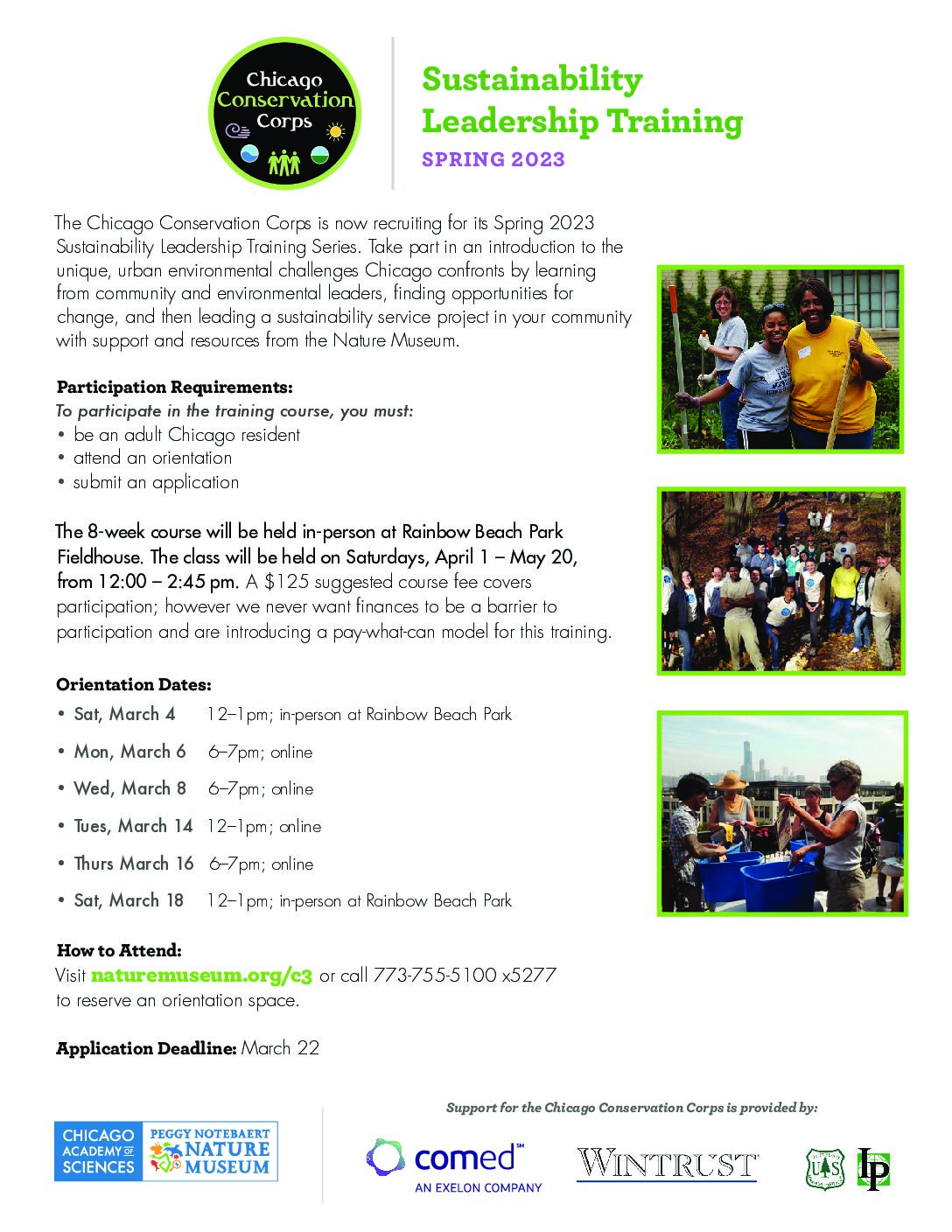 C3 is a community engagement program that works to empower Chicagoans to improve the quality of life in our neighborhoods through grassroots environmental service projects that protect our water, clean our air, restore our land, and save energy. We hold an 8 week training program that addresses sustainability issues unique to Chicago, taught by community leaders and experts in those fields. After the course, trainees are provided funding and support to go out into their communities and organize projects to benefit their communities. We believe an effective way to address climate and sustainability issues in our city is to support Chicagoans to become community leaders with specific tools to meet the specific needs of their communities.
Spring 2023 Sustainability Leadership Training Series
The Chicago Conservation Corps is now recruiting for its Spring 2023 Sustainability Leadership Training Series. Take part in an introduction to the unique, urban environmental challenges Chicago confronts by learning from community and environmental leaders, finding opportunities for change, and then leading a sustainability service project in your community with support and resources from the Nature Museum https://naturemuseum.org/. To participate in the training course, you must be an adult Chicago resident, attend an orientation, and submit an application.
The 8-week course will be held in-person at Rainbow Beach Park Fieldhouse. The class will be held on Saturdays, April 1-May 20, from 12-2:45 pm. Attend an orientation to learn more; visit naturemuseum.org/C3 or call 773-755-5100 x5277 to reserve a space.
Orientation Dates:
Saturday, March 4 // 12-1 pm; in-person at Rainbow Beach Park
Monday, March 6 // 6–7pm; online
Wednesday, March 8 // 6–7pm; online
Tuesday, March 14 // 12–1pm; online
Thursday, March 16 // 6–7pm; online
Saturday, March 18 // 12-1 pm; in-person at Rainbow Beach Park