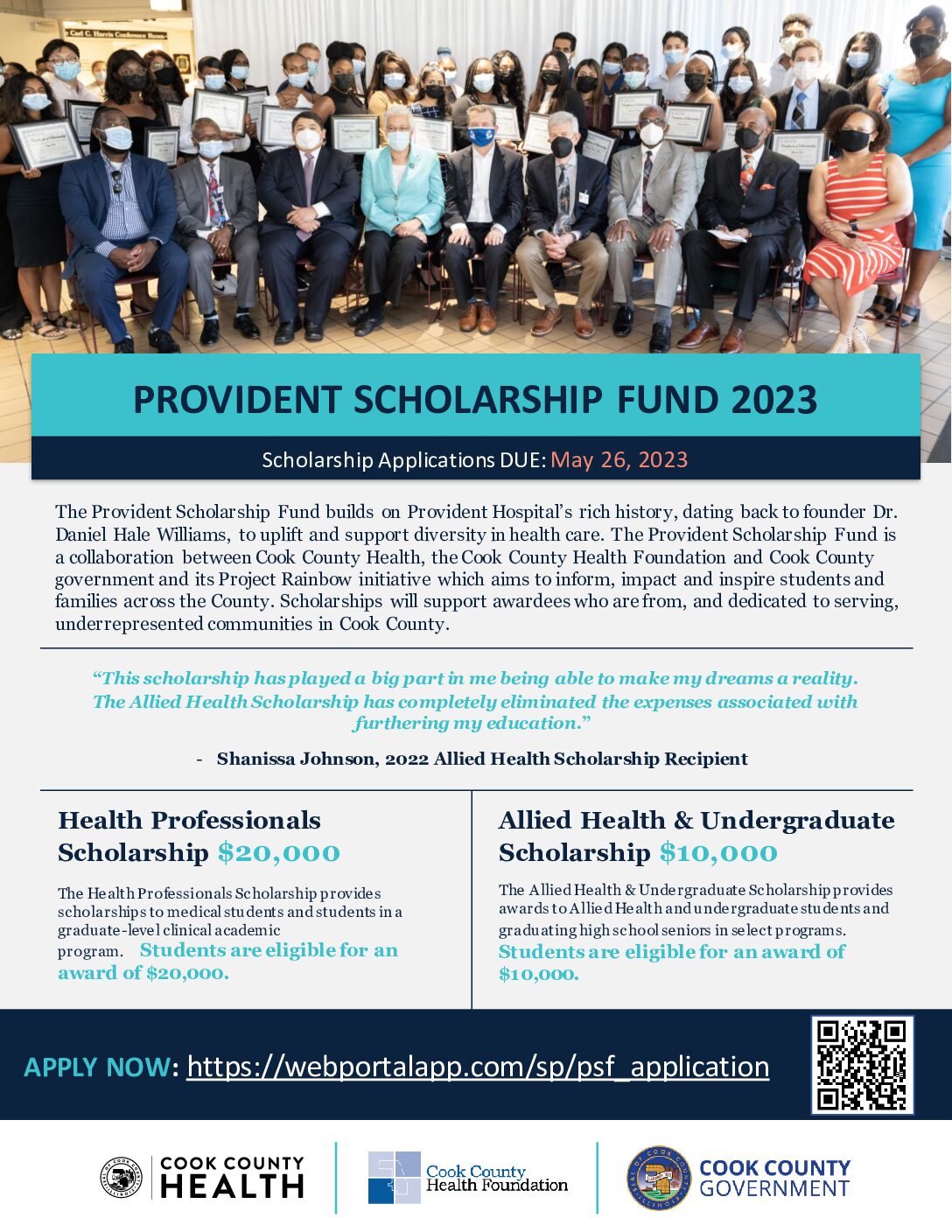 On April 20, 2023, Cook County officials joined Cook County Health and Cook County Health Foundation leaders to kick off the second year of the Provident Scholarship Fund to support students who are from, and committed to caring for, underserved communities.** The scholarship application period is open now and closes on May 26.**
The Provident Scholarship Fund will offer $20,000 scholarships to health professional students, including those in medical, dental, physician assistant and nurse practitioner programs. The Provident Scholarship Fund will also offer $10,000 scholarships to graduating high school seniors, undergraduate and allied health students, including those nursing, surgical and radiology technology, respiratory therapy and paramedic programs. Up to 60 scholarships, totaling $900,000, are expected to be awarded in 2023. **For more information visit: cookcountyhealth.org/about/careers/provident-scholarship-fund.**
During the scholarship's inaugural year in 2022, more than two dozen scholarships were awarded. The goal of this program is to provide opportunities to students coming from communities that historically have faced greater challenges, including access to education, economic opportunities, transportation, food or medical care.
"As evident by the number of applications last year, there is no shortage of students aiming to get into medicine. Yet, students from under-resourced communities face many barriers to entry, particularly financially. This scholarship program intends to alleviate some of those challenges," said Cook County Board President Toni Preckwinkle.
Applicants will be evaluated on their academic achievements and consideration will also be given to the candidate's Cook County zip code and where it falls on the Social Vulnerability Index.
"By supporting medical professionals who are from communities where opportunity is not abundant, we hope to create a health care delivery system that is representative of the patients we serve and provides care that is high-quality, culturally competent, and equitable for all," said Cook County Health CEO Israel Rocha.
The Provident Scholarship is funded thanks to Cook County Government, Cook County Health and the Cook County Health Foundation. To donate to the CCH Foundation, visit cchealthfoundation.org/about/.
"The Cook County Health Foundation is honored to collaborate in support of these students on their journey to be healers. We are thrilled that the financial support we will provide and the mentorship from the health system will help these students and their families for generations," said Joseph P. Flanagan, Chair, Cook County Health Foundation.
"It is critical that we uplift our future health care leaders in as many ways as we can," said Valarie Amos, Chief Human Resources Officer, Cook County Health. "I am pleased to say that this year, each scholar will be matched with an experienced staff member mentor at Cook County Health for personal and professional development to support their success."
The scholarship program is named after Cook County Health's Provident Hospital. Provident Hospital was founded in 1891 by Dr. Daniel Hale Williams. It was the first hospital in the U.S. that was owned and run by African Americans, and it cared for people of all races.
The Provident Scholarship Fund is one of many educational initiatives being supported by Cook County, including Project Rainbow, which aims to inform, inspire and impact children, students and families across the County. For more information on Project Rainbow please visit projectrainbow.cookcountyil.gov/.