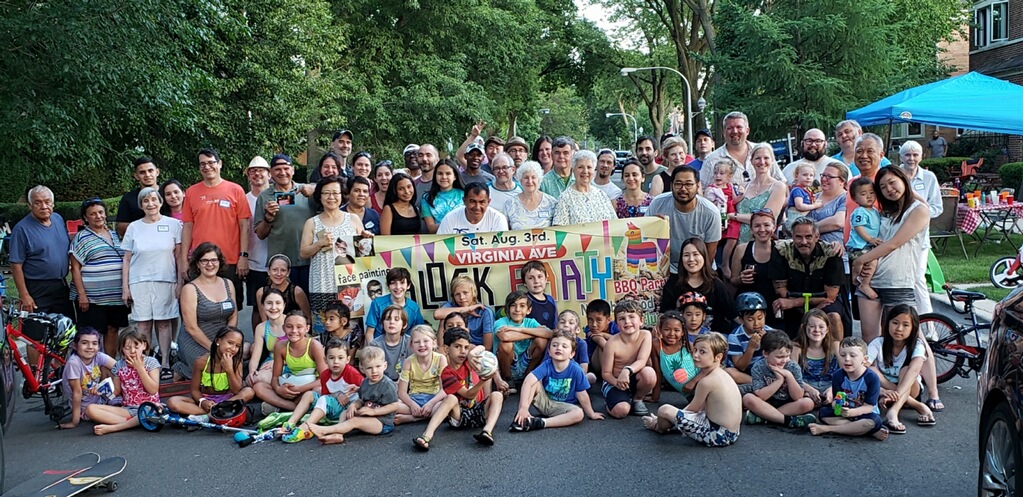 Apply for a Block Party Permit
The permit application process begins by contacting the 40th Ward Office. Once your application is reviewed and approved, Aldermanic staff will enter your request into the online permitting system for approval and release by the Chicago Department of Transportation (CDOT).
Download and complete:
Fill in all contact and event details on the Request Form below.
You will upload your completed PDF forms from line 1 to the Request Form below.
There is no fee to apply for this permit. If you are interested in a Fire Truck visit or a Jumping Jack / Bouncy House, additional permits are required.
We also encourage you to contact your neighbors and circulate a petition to demonstrate support for the event, particularly if this is your first event or you have not had a block party in the past two years.
Block Party Permit requests may be denied by the Chicago Department of Transportation (CDOT) for the following reasons:
Incomplete application (missing information)
Traffic control issues
Issues related to other permits issued in the vicinity of the event
Public safety concerns
Please email us at info@40thWard.org if you have questions or need assistance.
Additional Block Party Requests
If you are interested in a Chicago Fire Department (CFD) presence, that form is a separate process and must be sent to the CFD two (2) weeks prior to event.
Jumping Jacks or Bouncy Houses will be permitted separately from the Alder office. Learn more and apply for the Jumping Jack program.
Fire trucks visits must be requested separately from the 40th Ward Office. To request a fire truck, download and complete the CFD Presence Request form (PDF). Send your completed request to the e-mail address listed on the form at least two (2) weeks before your Block Party date. Please note that a fire truck presence isn't guaranteed even if you complete the application within the time frame.
The Rules: Block Party Permit Request Guidelines
Please note that our office does not have equipment available to block off streets, that is the responsibility of the block party organizers.
Requests for Block Party Permits MUST be submitted two (2) weeks prior to event to ensure the permit is issued for the event. Permits are issued on a first come, first served basis.
Block Party Permits will not be issued on any Federal Aid Urban Streets (i.e., arterial streets) or on a bus route.
Block Party Permits will not be issued for more than one (1) day in succession or to close any street for a commercial purpose.
Street closure hours at 10AM and 10PM and are not issued for more than one day in succession or to close any street for a commercial purpose.
No intersection can be blocked; permits are only issued for a single block.
Access to any parking spaces controlled by meters or pay boxes must be maintained at all times.
"No Parking" signs should be up 24-48 hours prior to the party.
Fireworks of any kind are illegal.
Review the Block Party Waste Management flyer
COVID-19 Guidance
Block party planners must notify neighbors and recommend vaccinations for all who attend.
Applicants must provide evidence that a majority of the residents on the affected block(s) approve of the block party.
While there are no capacity limits, residents applying for a block party permit must volunteer as a COVID Captain to help communicate safety protocols.
The COVID Captain must sign a COVID-19 safety affirmation form with the permit application that attests they will:

Recommend vaccinations for all who attend
Communicate that unvaccinated individuals, including children not eligible for the vaccine, wear masks and maintain social distancing
Ensure ready access to hand sanitizer throughout the block party