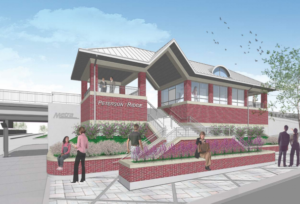 This Monday, the Ward office hosted a digital town hall with engineers from Metra, as well as with 48th Ward Alderman Harry Osterman and representatives from the offices of State Senator Heather Steans and State Representative Kelly Cassidy.
The full video of the digital town hall can be viewed online.
We appreciate the time and effort all our state, county, and city representatives have put into making this project happen! Informational highlights from the meeting include:
The elevated platform and warming houses will sit at track level, between the Peterson and Ridge bridges. Platform will be accessible by four ramps north of Peterson, two on the east side and two on the west, as well as by staircases on the south side of Peterson. Parking will run south down Ravenswood Ave, where the current embankment sits.
Construction will be staged from the future plaza area, between Peterson and Ridge, and will not require substantial street staging. Some lane closures on Peterson are expected, but no full street closures. Once a contractor has been selected and a construction schedule finalized, the Ward office will schedule another town hall to keep neighbors informed of upcoming construction impacts.
Our thanks to Alderman Osterman, Senator Steans, and Representative Cassidy, and to the representatives from Metra for making this digital town hall possible! Click here to view the town hall online.