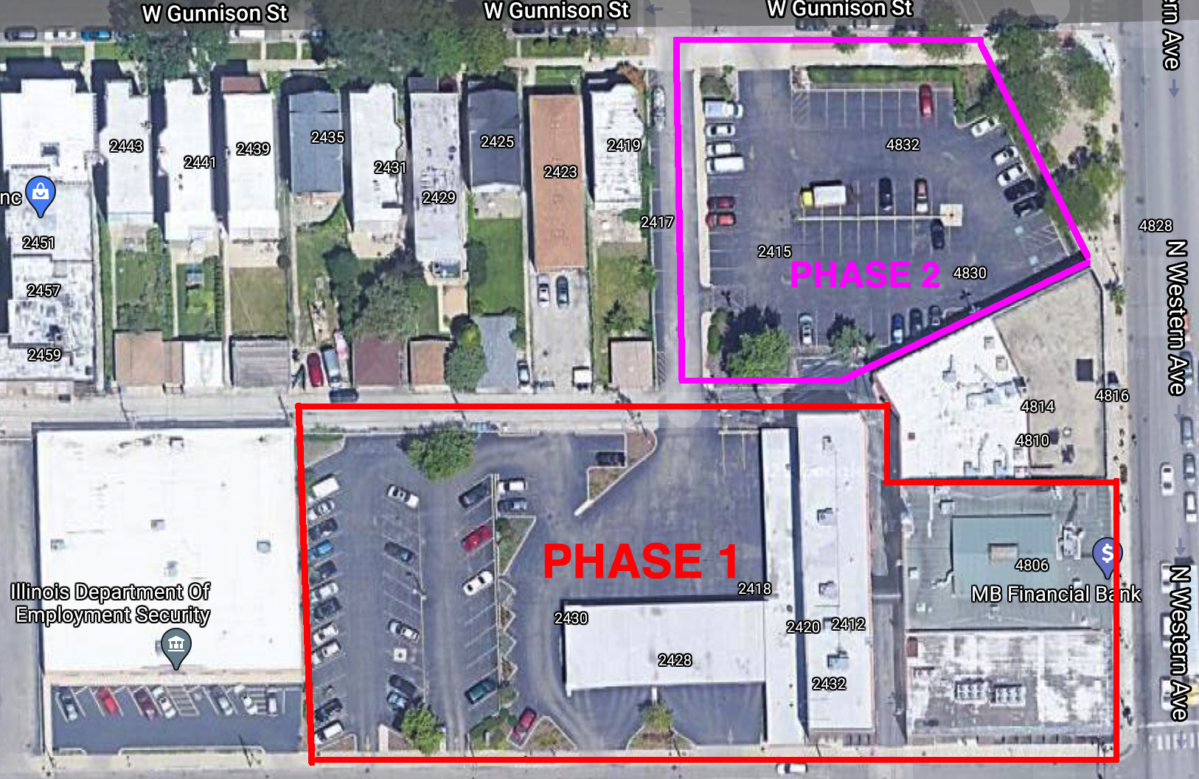 On Thursday, 28 January 2021, Aldermen Vasquez (40th) and Martin (47th) hosted a Community Visioning Town Hall regarding proposed development at the northwest corner of the Lawrence/Western intersection.
A recording of the Zoom meeting can be viewed in full here:
https://us02web.zoom.us/rec/share/jQR4JhuTiwY5jHChg0H_bWtSH2wsvwjIffpyEIQlzD9-k6rcsGXBphaWyJ17Ft1t.loX-4mY09qSQfXAq
Lawrence and Western Visioning Survey
Over 1200 residents participated in our Lawrence and Western Visioning Survey! We're thrilled by the level of engagement and deeply grateful to everyone who took the time to participate.
Read the Visioning Survey Summary (PDF)
Summary Highlights of the Town Hall Discussion
What is currently being proposed at the Lawrence/Western corner?
The video presentation above will provide a more detailed description, but in short summary:
The Hubbard Street Group development group has informally proposed a by-right, two-story, grocery-anchored development. It would have parking, a small 5th/3rd bank location, a retail tenant space, and some grocery on the first floor, and the second floor would be entirely grocery. HSG is proposing this as ""Phase 1,"" covering the southern section of the property, with a ""Phase 2″" for the northern section as-yet unplanned. HSG is purchasing all the land currently owned by 5th/3rd bank, but does not own the building at 4810 N Western and has not included it in any project descriptions. See map below for the proposed scope: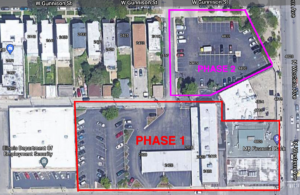 At present, no formal application has been made to the city for any permits or other legal requirements (zoning change, administrative adjustments, etc.). Drawings and discussions have been preliminary, and there is no official request with exact dimensions for the City to respond to at present.
What grocer/tenant is planning to move in?
The grocery tenant is under a Non-Disclosure Agreement, and has not revealed itself publicly. The 40th and 47th Ward offices have communicated strongly that public discussion with all relevant information is needed, and will continue to urge all parties involved to identify themselves.
What does the "by-right" zoning mean? What is the property currently zoned for?
"By-right" means a development that is already allowed within the existing zoning designation of a property. By-right development does not require City Council approval, whereas a change to a property's zoning designation does require City Council approval. The property is currently zoned B3-2.
What is a "planned development," and when would it be required?
Planned Development, or PD, is a special zoning designation used in Chicago for larger developments and developments in specific, sensitive locations such as shorelines. Each Planned Development has its own unique agreement that lays out specifics of building size, uses, architecture, traffic, and various other details. It is a much more property-specific and project-specific framework than a standard zoning designation. Examples of nearby Planned Developments include Swedish Hospital and Misericordia Homes.
The Planned Development process is lengthier than a standard zoning change, but can also streamline multiple aspects of development (right-of-way uses, parking requirements, administrative adjustments, TOD, etc.) into a single application, which simplifies the process overall. Planned Developments require public presentation and review by the Chicago Plan Commission, allowing for more robust community input than a by-right development.
Can the city require/prohibit specific uses, or mandate specific details of the development such as the amount of parking, location of driveways, etc.?
In general, the City does not have the power to make site-specific restrictions or requirements for uses allowed by the existing zoning of a property. Planned Development agreements, however, can include much more specific language.
Why is the development being proposed in phases? Will there be community input on any of the phases?
The overall square footage of the property would likely trigger a mandatory Planned Development if presented as a single project, which would allow for public review of the plan. Submitting multiple "phases" as separate, standalone developments may allow the developer to avoid the mandatory PD trigger.
Can the city deny building permits if the community opposes a development?
No. Issuance of building permits is a ministerial duty — so long as the permit being applied for is a lawful use and compliant with zoning and building codes, the City cannot choose to deny it.
Does the proposed development seek TIF or other City support?
No applications have been made for TIF funding or other City funds or subsidy.
Does the proposed development include housing, affordable or otherwise?
The developer is proposing a two-phase approach. At this time, only "Phase 1" is planned for the southern portion of the property, which does not include any residential.
Could a larger building be built here than the proposed two stories?
A larger/taller building would require a zoning change, which has not been applied for at this time.
What does the property's Transit Oriented Development location mean? Is the proposed development transit-oriented?
Properties near train stations and high-frequency bus lines are eligible for optional reductions in parking and increases in residential unit density. We do not have any formally submitted plans with a specified number of parking spaces, but a traditional grocery store parking lot would typically not be a TOD design/use.
Will the bank still be at the corner?
The bank expects to retain a branch on the ground floor with a drive-through.
When would construction begin on the proposed development?
Because nothing has been formally submitted, there is no current timeline or expected start date.
What would happen with the alley connecting Lawrence to Gunnison?
The developer is proposing to take ownership ("vacate" the alley) of the north-south portion of the alley between Lawrence and Gunnison. They would return the portion between Gunnison and the main east-west alley to the city, while the part south of that would be permanently eliminated and built over as part of the "Phase 1" development.
What would the traffic plan/impacts of a new development be?
The developers have indicated that they plan to conduct a traffic study, but have not shared the study or any results at this time.
How can neighbors help/get involved?
Please take the Visioning Survey that was provided at the meeting, and is linked here and at the top of the page! This is our primary source for neighbor feedback.
Both the 40th and 47th Ward offices strongly encourage an open public process for any development at this location, and urge the developers to pursue a unified Planned Development that will allow for public input and provide a single, cohesive site plan for this critical gateway location.
Subscribe to Weekly Updates
Join our 40th Forward mailing list to stay in touch with what's happening in our ward each week.