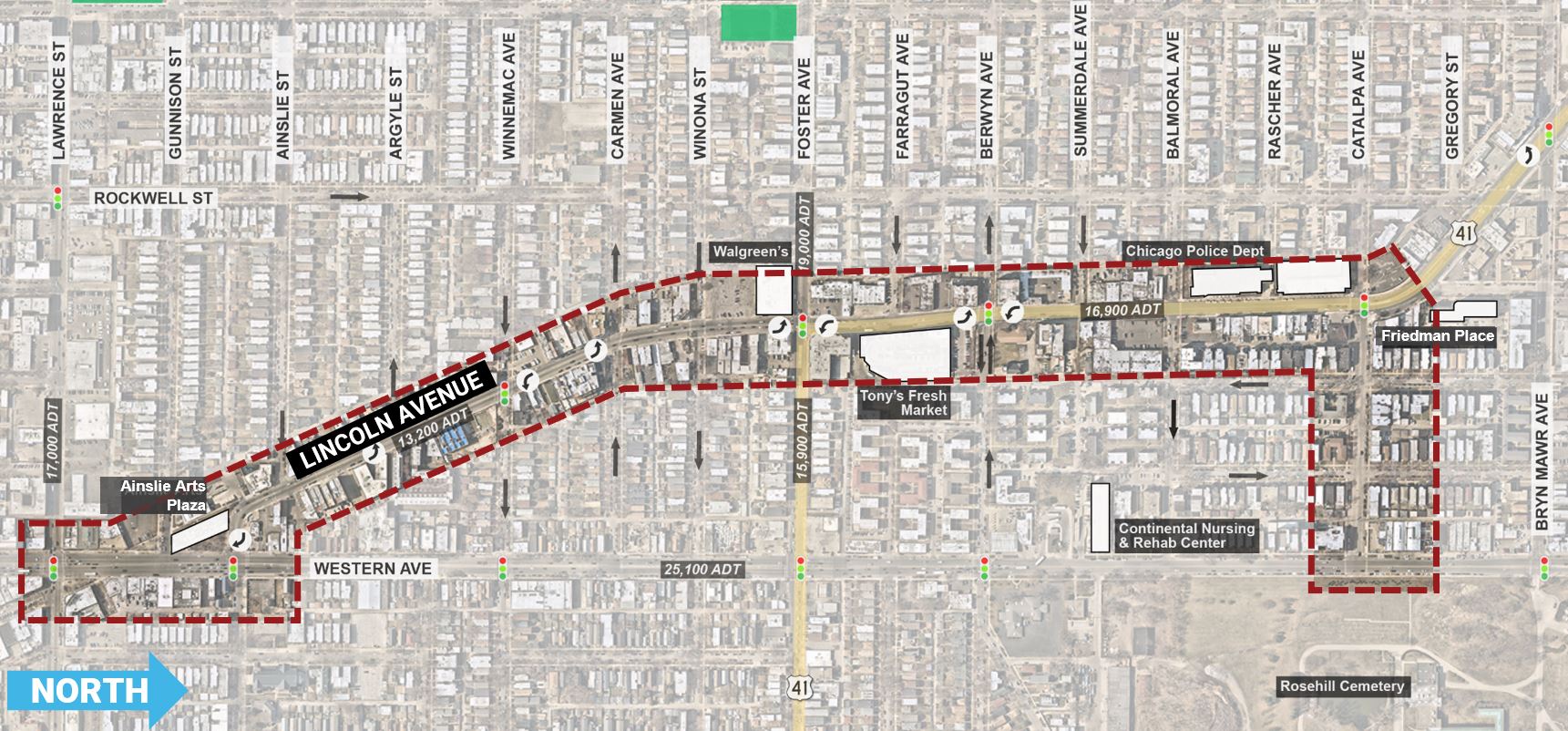 Street development project and vision for Lincoln Avenue
Our office is thrilled to announce plans for an upcoming large-scale street development project and vision for Lincoln Avenue! With support from the Department of Planning and Development and the Chicago Department of Transportation, we are launching a reimagining of what we will be calling Lincoln Avenue North, from Western to Catalpa, that will include:
Streetscaping with sidewalk and crosswalk improvements
Corridor beautification and greening
More public community spaces
The creation of the Lincoln Avenue North Arts District (LANA), which will transform the use of storefronts to create galleries, pop-ups, and live/work spaces for artists to call home
When I ran for office, I pledged to explore opportunities to reinvigorate our business districts and promote economic development within the 40th Ward. Through the use of approximately $15M in infrastructure development funds including the Western Avenue North and Lincoln Avenue TIF districts, the Lincoln Avenue North project is a reinvestment into our community. The project will enhance accessibility for visitors by creating a safer and more welcoming environment for pedestrians. By improving walkability along this section of Lincoln Avenue, the increased foot-traffic will provide an economic boost for our small businesses in the area.
Reimagining Public Spaces
It's also more important than ever to have intentional spaces that prioritize pedestrians and allow folks to safely congregate outside. Similar to the new Ainslie Arts Plaza, which was the beginning of a vision that will be moving forward from Western and Lincoln all the way to Catalpa and Lincoln, the reimagining of our public spaces will bring a new vibrancy and energy to the community for neighbors and visitors to enjoy. This project will be an amazing addition to the 40th Ward.
Next Steps
In the coming months I will be meeting with area stakeholders and local business owners to discuss project plans. Our office will also host several public meetings to solicit feedback from residents and to keep the 40th Ward updated throughout the duration of the project. Folks can sign up to receive project email updates from our office at https://mailchi.mp/40thward/lan.
We will continue to share details as opportunities present themselves, including estimated timelines for construction, but I wanted to make sure you heard it from me – we have something amazing coming to the 40th! Say hello to Lincoln Avenue North!
Related media and press: