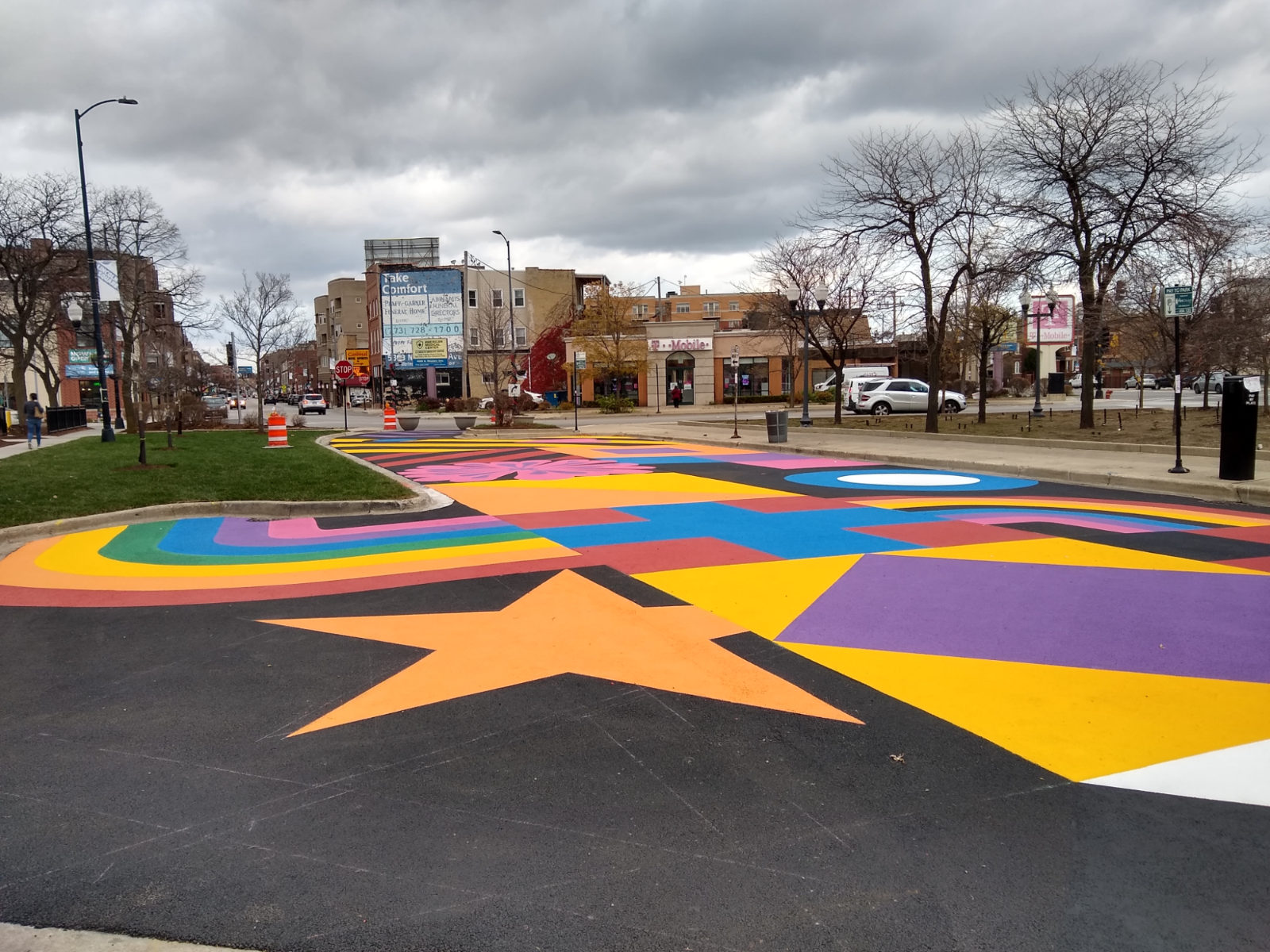 Ribbon-Cutting for Ainslie Arts Plaza Showcases Initial Progress in $14+ Million Area Development Investment
The Ainslie Arts Plaza, located at Ainslie, Lincoln Avenue and Western Avenue, officially will open on Friday, May 21, with a ribbon-cutting ceremony at 9:00 a.m. With support from the Department of Planning and Development, the Chicago Department of Transportation, the Lincoln Square Ravenswood Chamber of Commerce, and 40th Ward Alderman Andre Vasquez, the Ainslie Arts Plaza is the gateway to Lincoln Avenue North, an area under development along Lincoln from Western Avenue north to Catalpa.
The Ainslie Arts Plaza will be home to a number of events in coming months, including a weekend Makers' Market with artisans offering their products for sale, live music on the plaza throughout the week, and potentially evening movies being shown, courtesy of The Davis Theatre.
"We are delighted to see the ideas from the community come to life in the Ainslie Arts Plaza," said Alderman Vasquez. "We've had community meetings over the past several months, where neighbors and business owners have provided their input. We will be showcasing the energy and creativity of this community with the Plaza, as a gateway to continued development on Lincoln Avenue North."
Under the leadership of the Alderman, the area is being reimagined to reinvigorate small businesses, promote economic development, enhance accessibility for visitors and showcase the vibrancy of the community. Using approximately $14.1 million in infrastructure development funds from Lincoln Avenue and Western Avenue TIF districts, planned improvements include streetscaping with sidewalk and crosswalk improvements, corridor beautification and greening, more public community space, and the creation of the Lincoln Avenue North Arts District (LANA), which will transform the use of storefronts to create galleries, pop-ups, and affordable live/work spaces for artists.
"Ainslie Arts Plaza demonstrates an extremely creative way to re-purpose underutilized public land for community uses," said Department of Planning and Development Commissioner Maurice Cox. "In terms of beautification, community cohesion, and passive recreation, the plaza will clearly have an impact that serves Lincoln Square residents, businesses and visitors for years to come."
The arts plaza welcomes pedestrians with seating, newly installed landscaping and lights, and a street mural painted by article Andrea Jablonski. The space, just east of the McDonald's at 4844 N. Lincoln, converted parking alongside a small triangular park area into the newly opened plaza. The current Ainslie Arts Plaza is tactical urbanism at work, putting into action a variety of uses for 12 – 18 months, before permanent installations for the space will be made based on community support.
"Ainslie Arts Plaza is a great example of a collective effort to reimagine how our streets can become vibrant places that support neighborhood cohesion and vitality," said Chicago Department of Transportation Commissioner Gia Biagi. "We're looking forward to more plaza street projects like this across our city as well as continuing our work in Lincoln Square to revitalize its key commercial corridors."
The Make Way for People conversion of the space into a temporary plaza cost approximately $87,000, financed in part by $57,000 in City of Chicago Open Space Impact Fee revenues, which are generated by new residential development projects to help improve public open spaces within the City's 77 community areas. The balance of project funding was provided by the Lincoln Square Ravenswood Chamber of Commerce.
"This is a showcase of what happens when you have community groups, business groups and the aldermen working together," explains Rudy Flores, executive director of the Lincoln Square Ravenswood Chamber of Commerce. "That's exactly what has happened here, when we all work together, amazing innovative ideas like the Ainslie Arts Plaza come to fruition."
The Ainslie Arts Plaza ribbon-cutting ceremony on Friday, May 21, will feature notable guests including Commissioner Maurice Cox (Dept. of Planning and Development), Commissioner Gia Biagi (Dept. of Transportation), and Alderman Andre Vasquez (40th Ward).
###