May 17, 2022
Good morning 40th Ward Neighbors,
Yesterday at the City Council Special Meeting on Redistricting, I voted no on the Ward Map proposed by the Rules Committee, which passed with a 43-7 vote. 
Here is a map of the new 40th Ward.
Since taking office, we have centered our work in the belief that this government is YOURS. That you, as a taxpayer, invest in this government, and as such, there is an expectation of a return on that investment. 
It has been my belief, based on my life experience in Chicago, that many of us need to also understand how our government works in order to develop agency in improving it. I have always committed my leadership to bringing Open Government to the 40th Ward. In the interest of Accessibility, Accountability, and Transparency, I share my perspective on the remap process.
In January of 2021, my colleague Ald. Brian Hopkins (2nd Ward) and I introduced a resolution calling for a hearing on the potential of having an independent commission in charge of the redistricting process for the City. Truth be told, I was skeptical about it but I thought it was absolutely fair to ask the question. After all, we have all heard the stories of backroom dealings related to the way Chicago had done things in the past.
Having now gone through this process, I think the need for change is evident more than ever, and hope that we do move our city to an independent commission before we have to do it again in 2032. In the past months, I've watched this process play out and although I do think my colleagues were earnest in their attempts to move things forward, I believe we would be better served by taking it out of the hands of the council.
I want to thank Chairwoman Michelle Harris and her team for doing their best to navigate the other 49 of us. Having to start from census data to determine how to divide the entire population of Chicago into 50 wards (whose populations needed to be between 51,000 and 58,000) while also delivering fair, reflective representation that 41 members could find agreement on is virtually impossible. It takes an unbelievable level of patience to Chair something like that, and I believe she should be commended for being able to get us to this point.
I'd also like to thank the Chairs of the involved Caucuses – Gilbert Villegas (Latino), Jason Ervin (Black), Sophia King (Progressive Reform), and Carlos Ramirez Rosa (Democratic Socialist), for doing their best to advocate for the communities they represent. It is completely understandable that their duty to fight for what's best would lead to disagreement and tension.
When the Latino Caucus presented an initial map, we focused on the data and fairness, with an eye on representing the city based upon creating wards that reflected the proportions of the population each group represented as a starting point to conversation, not a line in the sand. It was not interpreted as such, and being this was the first time it had ever happened this early in the process, it led to confusion and a feeling that there was a competition as to which side could bring the most people over.
At that point, the very human dynamic served to make the process more tense. Here on the north side, where most of the wards had neither a black nor a Latino majority, it became easier to come to agreement. We knew that we needed to be at the higher end of population counts – 58,000 – to allow the south and west side wards to be made on the smaller end – 51,000 – so that there could be more wards to reflect the Latino and black populations, as well as create the first Asian Ward.
In the 40th, there came the opportunity to make our ward a more intentionally inclusive ward, one that is referred to as a plurality ward because it would be one where there isn't a white, black, Latino, or AAPI majority. In effect we would make our ward more diverse and more inclusive, while also helping the 33rd ward become a Latino majority ward.
That would occur through the 40th moving further north into West Ridge, so as to increase our diversity.
The 40th Ward, prior to this remap, was 52% White 25% Latino 17% Asian and 7% Black.
The new 40th Ward is 47% White 22% Latino, 20% Asian, and 10% Black.
Since I had gotten engaged on the existing process as well as worked with the coalition map process proactively, both of the 40th Ward maps looked fairly similar. Based on the data, and based on the potential to create a more diverse ward and one that could be considered an Asian Interest ward, I felt it my responsibility to shape what I see to be a coalition ward, where we can continue to build an inclusive community together. I tried my best to do that within the current processes.
Accomplishing that on both map versions allowed me the ability to support our coalition map, because we believed it to be the fairest one we could draft – we didn't protect incumbents, we created 18 White wards, 16 Black Wards, 15 Latino Wards, and 1 Asian Ward – while also being somewhat removed from what were much more tense negotiations in other parts of town. I got to see how the very human emotions spilled over and made it that much harder to find agreement. I believe it did lead to less than ideal map results, but I do not believe there is any one person or party to blame.
There are a few reasons why I couldn't in good conscience support this process and its results:
Lack of Latino Representation – With all due respect to our siblings of other ethnicities, I really do believe that the Latino community is underrepresented in this map, as the increase in population justified an additional ward. The added knowledge that Mayor Rahm Emanuel had muscled away Latino representation in the last remap made it feel that it was something our people deserved this time. I acknowledge that there is emotion in this reason, but I know what it's been like not having enough representation my whole life here in Chicago.
VAP Vs. CVAP – The current map centers it's vote count on current voting age population rather than counting for people who would turn 18 and be able to vote between now and the next redistricting, which is a more accurate as it pertains to representation
Lack of Undocumented Neighbor Representation – The current map only considers citizens, but we as a welcoming city, should set precedent and reflect that by counting our undocumented neighbors, not just citizen voters. After all, they are our neighbors, they pay taxes, and they deserve representation if we are truly the welcoming city we claim to be. We put up signs in support for all of our refugee communities – we need to show it in action and legislation as well.
Missed Opportunities – I believe that we can one day get to a place where we can consider our Middle Eastern/North African (MENA) neighbors,  our LGBTQ siblings, our disabled communities, Women and Non Gender Conforming neighbors when we think of reflective representation also. I admit that this a pretty ambitious vision, but I think an independent commission could be charged with providing other data to consider.
In short, I believe we can do better if it isn't the council doing it. Not because any one has bad intentions, not because of some machine influence, but because of some very human power and self interest dynamics that just make this all much harder than it needs to be. I don't know that an independent commission or a data driven process may yield better results, but I do know that this process fractures communities, and it should be our responsibility to try and do better.
To the 40th Ward Neighbors that will be going to the 39th and 50th Wards,
First of all, I want to thank you all for the honor of serving you since I was elected. I have learned so much about being a better listener, a better servant, a better neighbor, and a better leader from you. You will always be some of the first neighbors I ever got the opportunity to serve, and I keep that in my heart. Please know that you can ALWAYS reach out if I can ever be helpful. We are one Chicago and you have my commitment that as one community, you can always contact our office.
To our new 40th Ward Neighbors in West Ridge and Ravenswood Manor,
I am excited to meet each of you to hear about your experiences and concerns! Each neighborhood that I have had the pleasure of serving is so distinct and beautiful, I am eager to feel the vibe in your neck of the woods. We have some of the river that's new and Warren Park is now in the 40th Ward – there is just so much potential to connect our community, one neighbor at a time!
Please feel free to sign up for our 40th Ward Newsletter at www.40thWard.org, we send it out every Friday.
Here is our contact info:
Office: 5620 N Western
Phone; 773.654.1867
Email: info@40thWard.org
I look forward to serving all of our neighbors in the new 40th Ward and to all of us building this coalition community together!
Yours in Service and Community,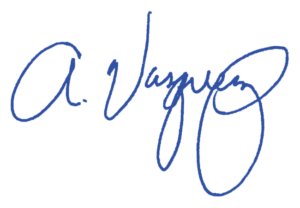 Alder Andre Vasquez, 40th Ward