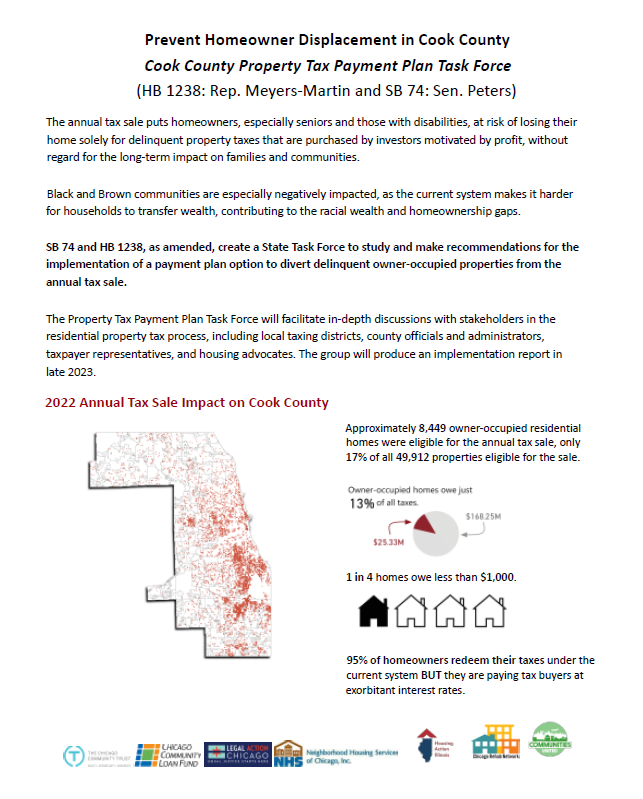 Via Communities United:
SB 74 , as amended, creates a State Task Force to study and make recommendations for the implementation of a payment plan option to divert delinquent owner-occupied properties from the annual tax sale.
The Property Tax Payment Plan Task Force will facilitate in-depth discussions with stakeholders in the residential property tax process, including local taxing districts, county officials and administrators, taxpayer representatives, and housing advocates.
SB 74 has been scheduled for a subject matter hearing in the Senate Revenue Committee, and will be called for a vote tomorrow, Wednesday, March 8th at 3:30pm. Please show your support by filing a witness slip.
Showing strong community support will be essential for the legislation to advance this week or in the future.
How to File a Witness Slip:
Witness slips can be filed prior to the hearing HERE: https://bit.ly/YESSB74
Under "Identification", Fill out as much information as you're comfortable with
Witness slips can be filed by individuals AND organizations. List the organization you represent, or "Self" under "Representation"
Under "Position", select "PROPONENT" . Double check to make sure you clicked the correct box!
Under "Testimony" select "Record of Appearance Only". By selecting "Record of Appearance" your name/organization will show as a proponent
Agree to the "Terms of Agreement" and click on the "Create (Slip)" button.
Also, the Cook County Treasurer Office's interest rate reduction bill, sponsored by Senator Villivalam has been scheduled for a hearing. This bill cuts the interest rate for delinquent property taxes, and is an initiative we fully support. To file a witness slip in support please visit: https://bit.ly/SB2395YES.
You'll receive a copy of your witness slip via email. If you create an account at https://my.ilga.gov/Account/Register you can manage/edit your witness slips.