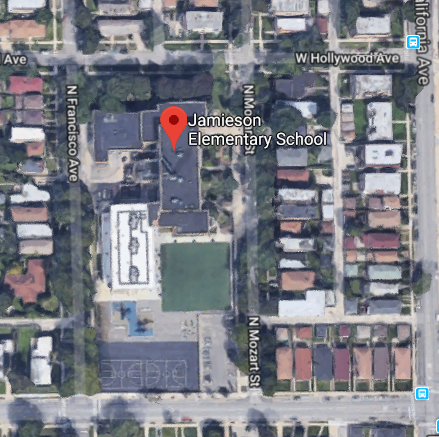 A decision has been made regarding this zoning change request. Please see the attached Notice of Aldermanic Intent 
NOTICE OF TRAFFIC CHANGE RECOMMENDATION
Dear Neighbors,
My office has received a recommendation for the following traffic change:
Location: West Hollywood Ave between California and Francisco Avenues
CDOT Recommendation: Hollywood Avenue is a 26-foot-wide, two-way local road with
on-street parking on both sides of the street. Jamieson Elementary School is located on
the south side of Hollywood between Francisco and Mozart. Thirty feet is the minimum
width required for streets with two-way traffic and on-street parking on both sides.
Since Hollywood Avenue from Francisco Avenue to California Avenue is more narrow
than this minimum, CDOT recommends converting this section of Hollywood to a
one-way eastbound street to improve traffic operations.
PUBLIC MEETING FOR COMMUNITY FEEDBACK WILL BE HELD
Meeting Date: Thursday, November 14, 2019
Meeting Time: 6:00pm
Meeting Location: Jamieson Elementary School, 5650 N. Mozart Ave.
Can't make the meeting? We accept online feedback! Please use our 40th Ward Traffic Change Feedback Form for public comment on this project. All feedback is considered before a decision is made, whether submitted online or at public meetings.