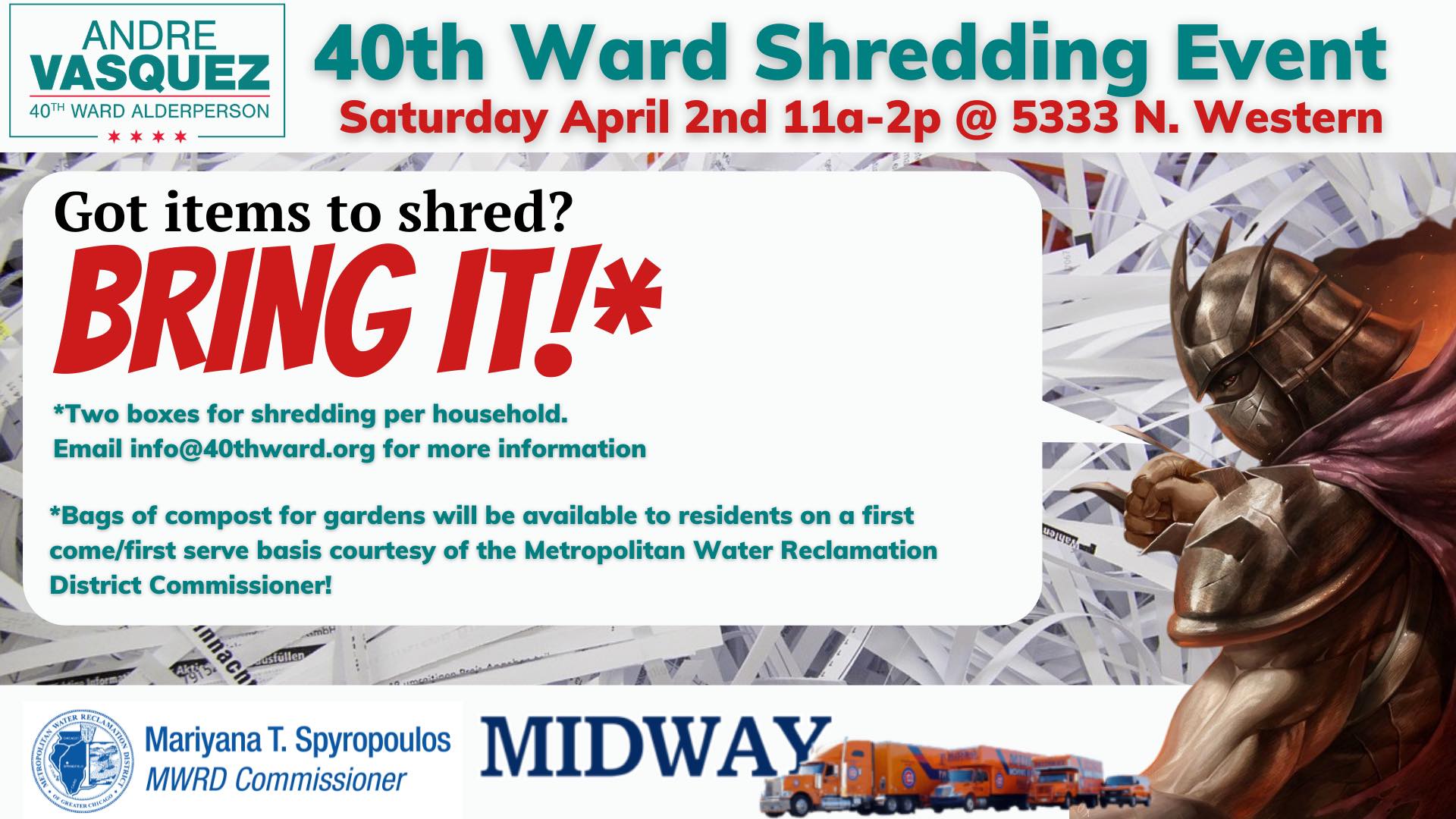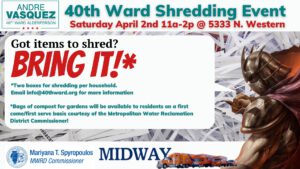 The 40th Ward is hosting a FREE shredding event on April 2 from 11a-2p at 5333 N. Western (Streets and Sanitation lot). Drive up and walk ins accepted.
***Participants are limited to TWO boxes per household for this event***
WHAT CAN AND CAN'T BE SHREDDED?
Our primary mission is to shred confidential paper documents and to recycle as much of that paper as possible so it can return to the marketplace and avoid being dumped in a landfill. The more pure the paper, the more likely it will be re-used.
It is difficult to provide a comprehensive list of every acceptable or unacceptable item, but here is a basic guide:
ACCEPTABLE AND OPTIMAL
White office paper (copier, computer, legal, letterhead, loose-leaf, cash receipts, memos, and other types of white paper) with any colored ink, non-glossy
ACCEPTABLE
Mixed Paper – Colored copier paper, windowed or windowless envelopes, yellow legal pads, manila and colored file folders, message pads; non-glossy flyers pamphlets and brochures
NOT ACCEPTABLE
Newspapers, magazines, plastic bags or sleeves, bubble-insulated envelopes, credit and ID cards, license plates, cardboard (including hardcovers of books and composition folders), 3 ring binders, notebook spirals, plastic file covers, hanging file folders, accordion folders, paper towels, napkins, tissues, CDs, disks, X-rays, blueprints, styrofoam, prescription medicine bottles, and no electronics or hard drives of any kind.
WHAT ABOUT STAPLES AND PAPER
CLIPS?
Small staples and plain metal paper clips on your documents are okay. Please remove any plastic binder clips or any other large metal or plastic fasteners.
Email info@40thward.org if you have additional questions.