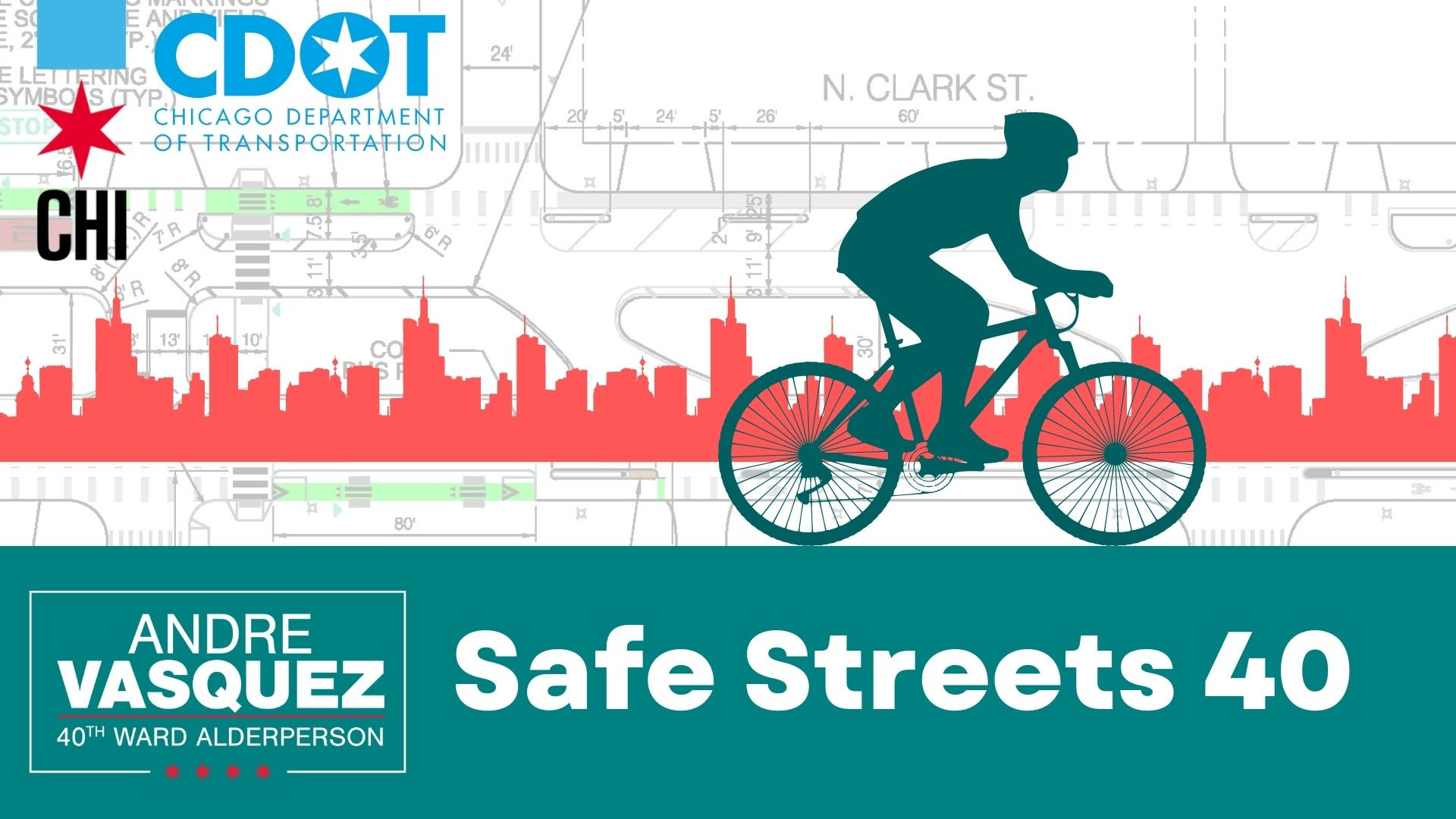 Over the past few weeks, families in the 40th Ward and its surrounding communities have been devastated due to serious and fatal accidents involving vehicles striking both pedestrians and cyclists.
May 11th: 82-year-old Concepcion Lopez was struck and killed by a car while waiting for a bus on Peterson and Damen in the 40th Ward.
June 2nd: 2-year-old Rafi Cardenas was struck and killed by a car while riding a scooter at the intersection of Eastwood and Leavitt in the 47th Ward.
June 9th: 3-year-old Elizabeth Grace Shambrook was struck and killed by a truck during a bike ride with her mother after a utility vehicle blocked access to the bike lane at Leland and Winthrop in the 46th Ward.
June 11th: A 29-year-old woman and a 31-year-old man were struck and critically injured after a car drove over the curb and onto the sidewalk at Foster and Clark in the 40th Ward.
June 12th: A 75-year-old man and 47th Ward volunteer was struck and killed by a vehicle at Irving Park and Hoyne in the 47th Ward.
These injuries and deaths are heartbreaking and agonizing, and they were preventable.
Our City needs comprehensive legislation to implement initiatives that protect Chicago's cyclists and pedestrians. It requires leadership from the top to prioritize these issues because attempting to address it on a ward-by-ward basis yields varying results and it fails to create safer streets on a city-wide level.
I want to thank all of the cyclists who organize around these issues for holding me accountable and pushing me to reimagine what's possible when it comes to safer streets in our City. As a result of their efforts and the dedicated work of 40th Ward staff, I would like to announce some improvement that are coming to our community:
The Clark St Bike Lane will have concrete curb protection this year, with work beginning in the coming months.
A Berwyn Contraflow Bike Lane will be created from Damen to the river.
The Leland Greenway, which prioritizes cyclists and pedestrians through traffic calming measures, is moving forward between Western and Rockwell.
We are also reviewing the municipal code to see what can be done in regards to towing vehicles parked bike lanes. Furthermore, I have reached out to a number of my colleagues to work on developing additional solutions to address these issues.
In the 40th Ward, I am asking for your help on this critical matter. You can help get us closer to the goal of safer streets by:
Joining our Safe Streets Transportation Board. The Transportation Board is part of our Precinct Partners program. It's for anyone who is passionate about improving biking, pedestrian safety, and public transit. Given the recent events in our ward and nearby wards involving pedestrians and cyclists, we believe now is the time to channel our collective energies into making streets safer and more accessible for everyone. We will work on projects like identifying areas in need of more pedestrian and traffic calming infrastructure, as well as improving existing and adding new bike routes in the ward. Sign up here.
Submit projects to improve our infrastructure here in the ward through our People's Budget Menu Process.
Attend and/or volunteer for our June 18th Clark Bike St event.
Together, I am confident that we will create change that saves lives in our ward, in our neighboring wards, and in our City.