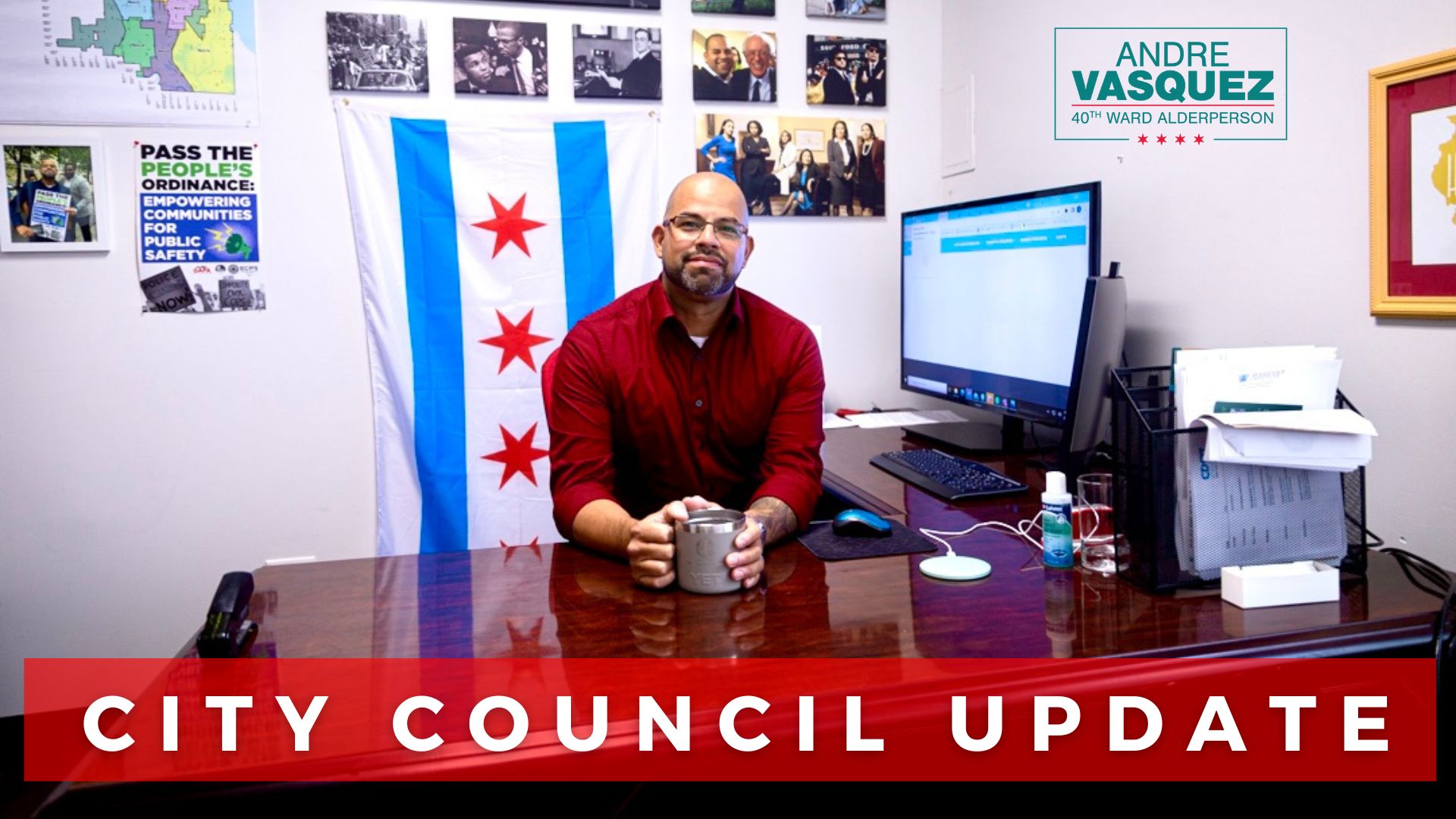 This week, we had our first City Council meeting of 2023. As always, there was plenty to move forward, here are some updates from Wednesday's meeting:
Smart Streets Ordinance Introduction
At Council, Alderperson Vasquez joined Mayor Lightfoot, Alders Reilly, Hopkins, Martin, Villegas and La Spata to introduce the Smarts Streets Ordinance, which establishes a Automated Camera Pilot in the downtown district to enforce the Bike Lane Ordinance our office passed last month! As this pilot is implemented, we will keep our neighbors informed. With the data gathered from the pilot, we will learn how to best expand it city wide, to make the streets safer for our cyclists! You can see a news story regarding the ordinance here.
Resolution Calling for hearing(s) on membership of CPD members to Oath Keeper's organization
Alderperson Vasquez joined Public Safety Committee Chairman Chris Taliaferro in calling for a hearing to investigate CPD Officer's who reportedly have ties to the Oath Keepers, a far-right anti-government organization, whose actions and practices go against the overall mission and vision of the city of Chicago and the Chicago Police Department. Since the group was founded, its members have been involved in a number of violent confrontations with government actors throughout the country dating back to the group's inception; and it was also reported by NPR that as many as 13 active members of the Chicago Police Department were identified as likely matches on the Oath Keepers membership roster.
For more information read: "Chicago Police Officer Who Admitted Being a Member of the Oath Keepers Won't Be Fired: City Watchdog," via WTTW
Parental Leave Fairness for City Employees
Also on Wednesday, Alderperson Vasquez joined the Chicago Teachers Union at a press conference calling out Mayor Lightfoot for currently excluding CPS employees from receiving the same 12 week parental leave that is now granted to city employees. Mayor Lightfoot had promised to included CPS staff, only to later deny it. 
Chicago Police Department employees have also been denied the 12 week parental leave, so I joined Alderwoman Silvana Tabares and a number of our colleagues in introducing an ordinance that would provide CPD employees with the same parental leave rights that have been granted to other city employees. It is simply unfair to provide anything less than what is provided already to city workers, and a shame that this is something we have to now fight for. 
For more coverage watch: "CTU calls on Mayor Lightfoot to extend parental leave improvements to Chicago Public Schools," By Jessica D'Onofrio and Craig Wall for ABC 7 News