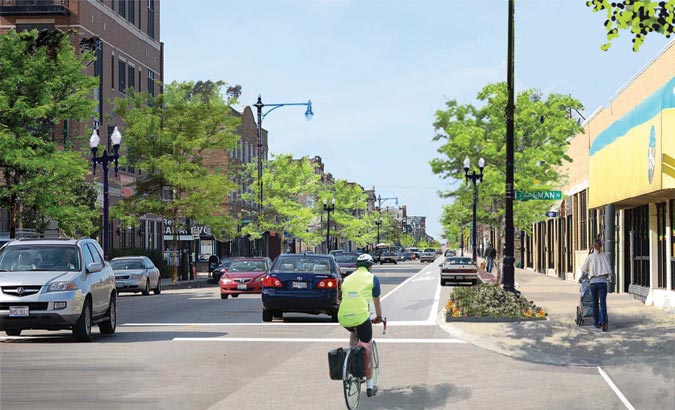 On Thursday, March 24th an eastbound lane on Lawrence Avenue was closed to traffic. This closure was due to an emergency sewer repair being conducted by the Department of Water Management. This work was unrelated to the ongoing streetscape construction. Unfortunately, due to the emergency nature of the work the Department of Water Management was unable to alert neighbors or the ward office about the lane closure before the work began. We apologize for the confusion this may have caused; eastbound Lawrence will be reopened for the weekend. The Department of Water Management will resume work on Monday and have a crew to allow for the passage of ambulances en route to Swedish Hospital while work is ongoing. Work is expected to be completed by Tuesday.
To reiterate, this work and lane closure were unrelated to the Lawrence Avenue Streetscape. However, we want all neighbors to be informed if and when lanes and sidewalks are closed for the project. You can check out weekly updates for the Lawrence Avenue Streetscape on our website here.
Additionally, the Lawrence Ave streetscape project contractors host a weekly construction update at 9:30 am on Thursdays.  These meetings are held both online and in person at the field office. The field office is located at 4546 Western Avenue, which is located just south of Wilson Avenue. The first 10 to 15 minutes of each meeting will be spent on informing the public on the current project status and addressing any public concerns or issues.