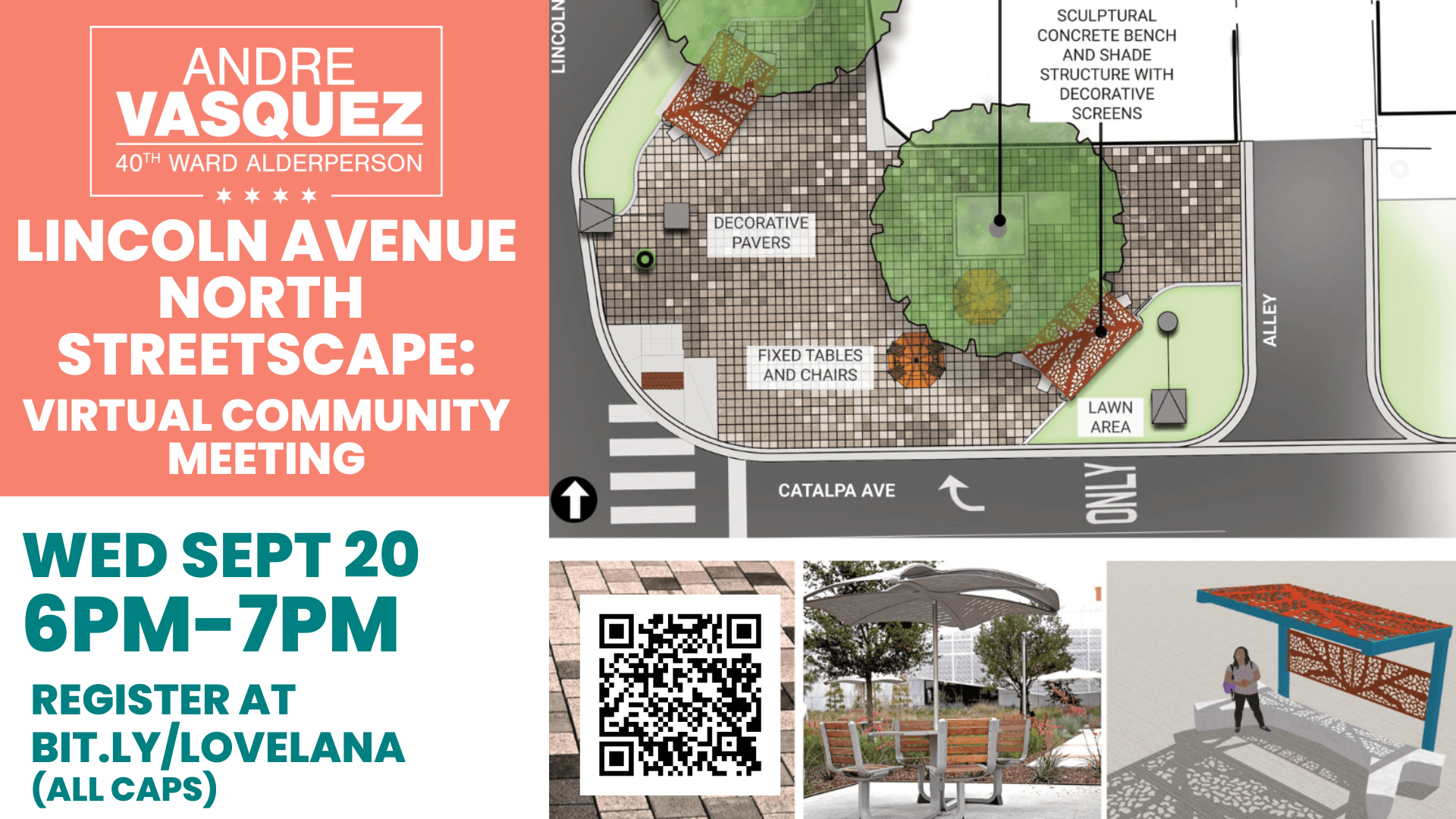 40th Ward Office Events
The 40th Ward Office is hosting a lot of exciting events this month, including a community meeting to talk about the newest addition to the Lincoln Avenue North Arts (LANA) District, and a map-a-thon event with Project Sidewalk to discuss how to improve accessibility in our Ward.
Check out all the details below:
Lincoln Avenue North Streetscape: Virtual Community Meeting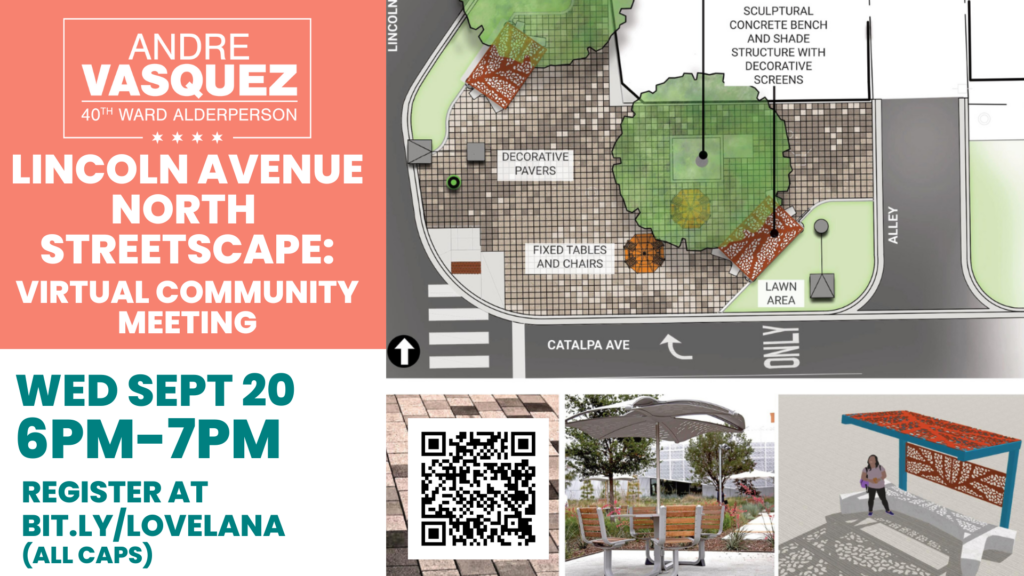 Join us for a Virtual Community Meeting on Wednesday, September 20th from 6-7pm to discuss the upcoming Lincoln Avenue North Arts Streetscape, which broke ground this week!
Lincoln Avenue North Streetscape is a major improvement infrastructure improvement project to enhance accessibility and create a safer and more welcoming environment for pedestrians. It's part of a long-term vision for reimagining the commercial corridor as the Lincoln Avenue North Arts (LANA) District, the aim of which is to reinvigorate the business districts of the 40th Ward and promote economic development by incorporating more public art.
Construction will take place on Lincoln Avenue North, the stretch of Lincoln Ave between Western and Catalpa Avenues. The design for the streetscape—which will include the stretch of Lincoln Avenue between Western and Catalpa Avenues—includes sidewalk and crosswalk improvements, along with corridor beautification and greening.
---
Project Sidewalk Map-a-thon
Join the 40th Ward and UIC at the Ward office to learn how to use online tool Project Sidewalk to map out sidewalk accessibility through the Ward and the City! Register here for our September 21st event, from 6:30-7:30pm at 5620 N Western Ave.
---
Reimagining Public Safety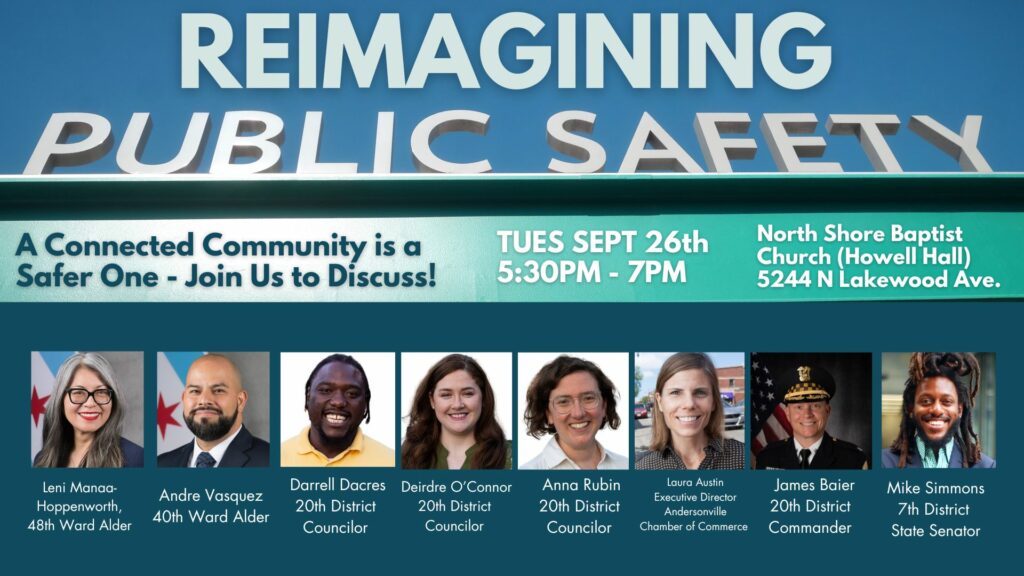 Connected Communities are safer communities. Join Alderperson Andre Vasquez, Alderwoman Leni Manaa-Hoppenworth, 20th District Counilors Deirdre O'Connor, Darrell Dacres, and Anna Rubin, 7th District State Senator Mike Simmons, Andersonville Chamber of Commerce Executive Director Laura Austin, and 20th District Commander James Baier to discuss how we can reimagine public safety in our area.
The event will take place on Tuesday, September 26th from 5:30-7pm, at North Shore Baptist Church (Howell Hall), 4255 N. Lakewood Ave.
---
West Edgewater Green Park: Community Update Meeting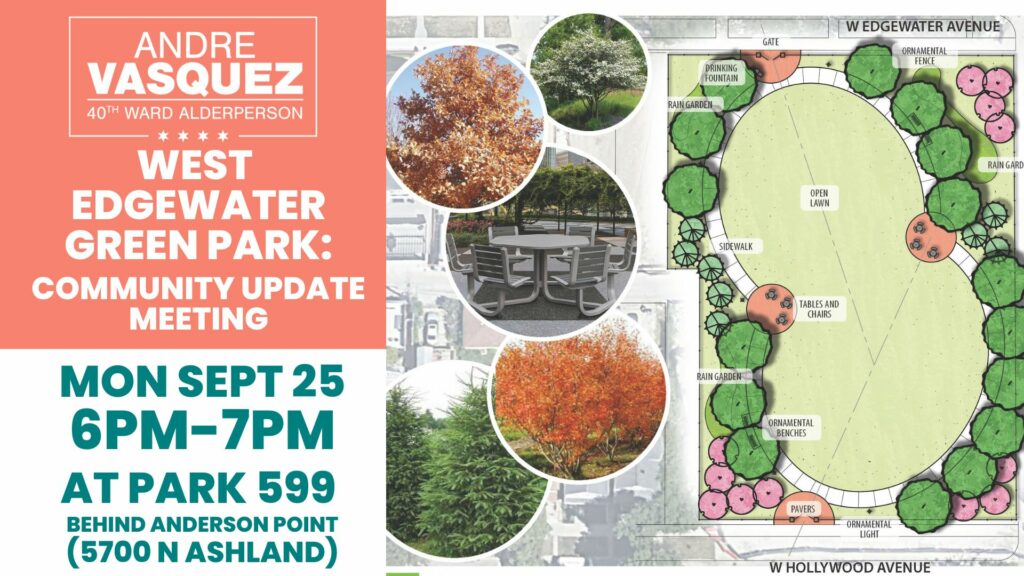 We will be hosting a community meeting about the future of West Edgewater Green Park on Monday, September 25th from 6-7pm at Park 500, 5700 N. Ashland.
---
Community Events
Want to know what else is happening around the 40th Ward? September is packed with events, from two festivals to ring in the fall season, a vaccine clinic for seniors, and a panel on how to create cleaner, more affordable buildings in our community.
Check out all the details below:
Community Meeting: Clean and Affordable Buildings in our Wards
Join Sierra Club for a community meeting with Alderperson Andre Vasquez, and Alderman Matt Martin to learn how Chicago can shift to newer, more affordable, and more efficient all-electric technologies and build support for Clean Buildings policies that can protect our health and our economic well being by phasing out fossil fuels in Chicago's buildings.
When: September 18, from 6PM-7:30PM
Where: Sulzer Library, 4455 N Lincoln Ave, Chicago, IL 60625
---
Fall Nature Fest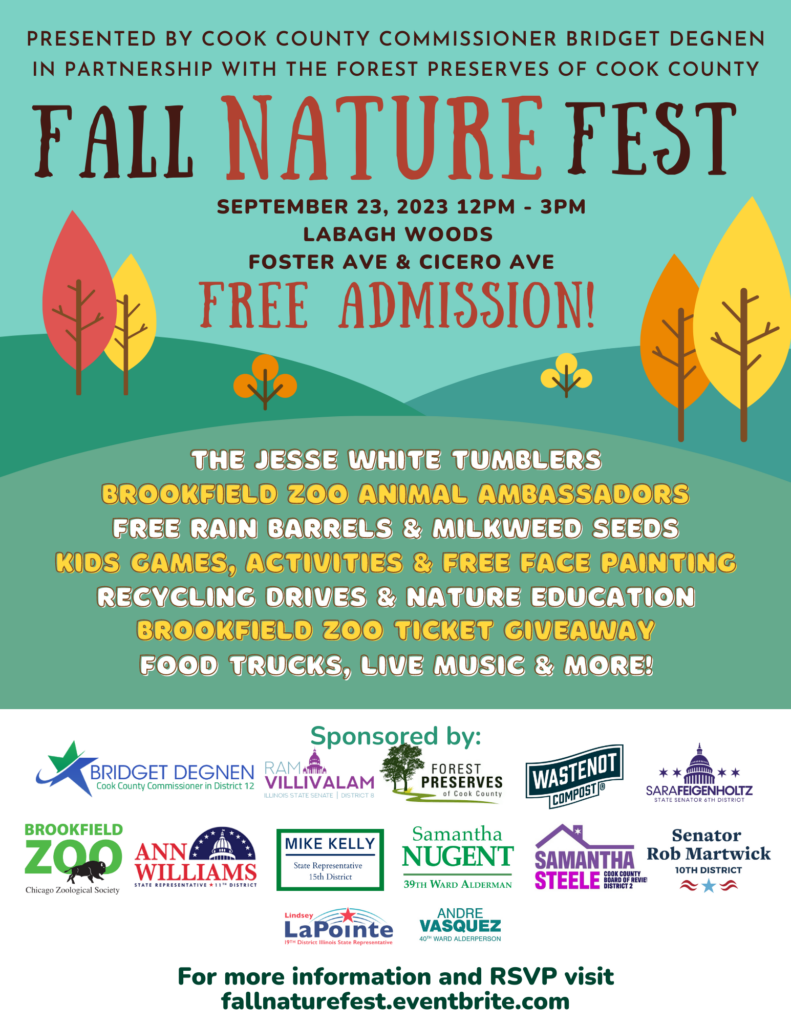 September 23rd is National Public Lands Day. Celebrate by joining Alder Vasquez and Commissioner Bridget Degnen for Fall Nature Fest in LaBagh Woods from 12pm – 3pm with a live DJ, animals from the Brookfield Zoo, the Jesse White Tumblers, and eco-friendly organizations and businesses across the County. This event is free and for all ages. Register online here via Eventbrite.
---
Senior Fair and Vaccine Clinic
The DFSS and U.S. Representative Mike Quigley are hosting a Senior Fair and Vaccine Clinic this September. Details below:
When: Thursday, September 28th

Senior Fair: 9:30-11:30am
Vaccine Clinic: 9:30am-12:30pm

Where: Northeast Levy Center, 2019 Lawrence Ave, Chicago IL 60625
How to Get There:

Parking on site
.2 mile walk from Damen brown line.
CTA Bus 50 & 81 have ADA compliant stops directly in front
For more information, please call 773-267-5926
---
Lincoln Square Ravenswood Apple Fest

Usher in the Fall with the Lincoln Square Ravenswood Chamber of Commerce's 36th Annual Apple Fest! The festivities will take place on Saturday, September 30th and Sunday, October 1st from 9am – 6pm. Apple Fest is a long standing tradition in Lincoln Square, bringing community together to celebrate the beginning of autumn.
When: Saturday, Sept. 30th, 9am-6pm & Sunday Oct. 1st, 9am – 6pm
Where: Lincoln Avenue between Lawrence and Sunnyside
Cost: $5 suggested donation
---
Upcoming Opportunities
There are a bunch of volunteer, employment, and financial opportunities available in our community: from opportunities for paid internships for teens and young adults, to an environmental grant program, to volunteer opportunities to support refugee families in our community.
Check out all the details below:
One Summer Chicago Youth Employment Program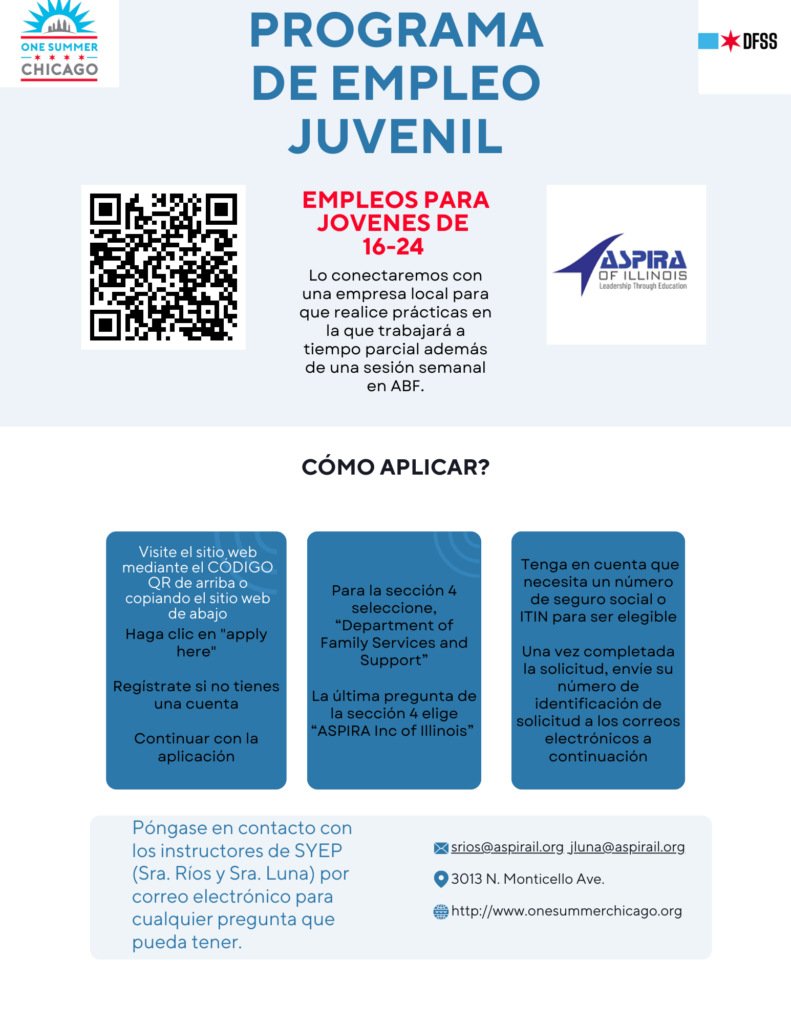 One Summer Chicago brings together government institutions, community-based organizations and companies to offer employment and internship opportunities to youth and young adults ages 14 to 24. Apply now!
---
Illinois FirstSteps Program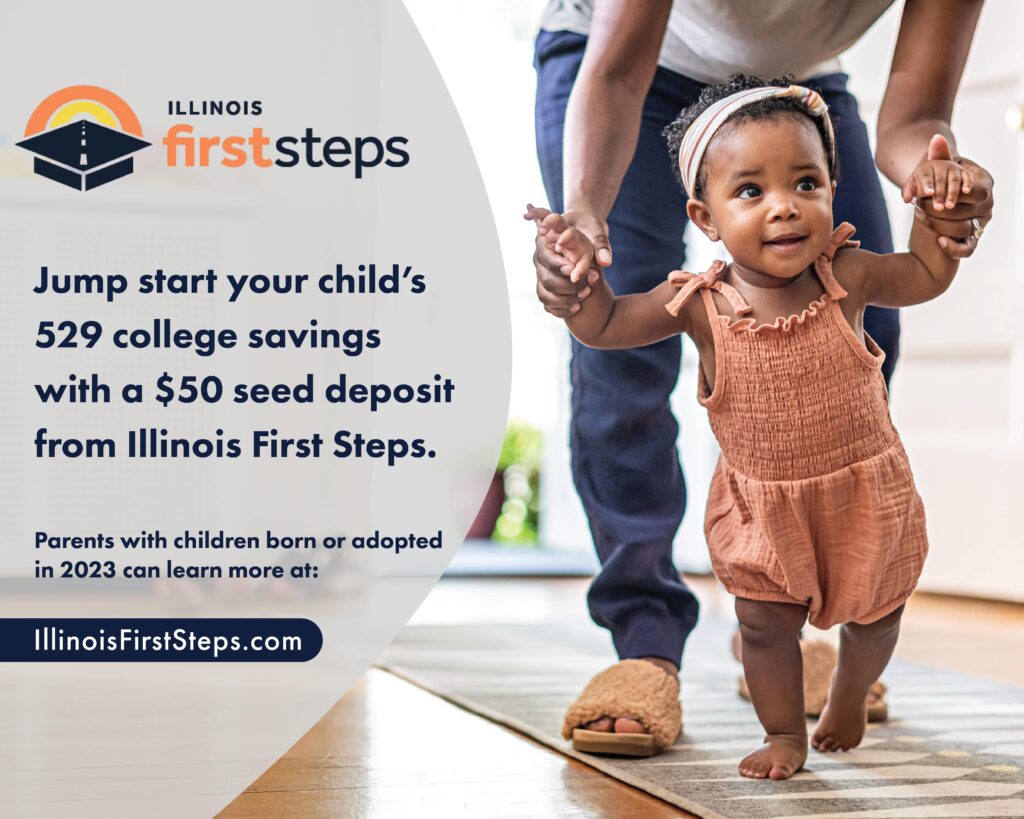 Jump start your child's 529 college savings with a $50 seed deposit from Illinois First Steps. For parents of children born or adopted on or after January 1, 2023.
---
Exelon Foundation Green Lab Grant 2023
As part of its ongoing commitment to investing in the future workforce, the Exelon Foundation, in partnership with the Museum of Science and Industry, launched the Green Lab Grants program in 2021. The grant provides up to $50,000 in funding to schools and nonprofit organizations that operate out of school programs – serving Title I-eligible middle and high school students. The goal of this initiative is to invest in hands-on education spaces in Exelon's service territories to prepare students for careers in STEM. Since its start, 49 schools and nonprofit organizations received grants totaling over $1.6 million.
The application is open through September 22nd, 2023, 11:59pm CT. We encourage you to watch the recorded informational webinar and visit the application portal to learn more. Please feel free to share widely.
Some of the requirements include:
Focusing on the environment and issues related to the climate emergency
Intending to build, expand or enhance a space dedicated to hands-on science, technology, math or engineering (STEM)
Primarily serving Title I-eligible schools or populations meeting similar criteria
Primarily functioning during out-of-school time
---
Help Stock the Shelves Enhance the Lives of Refugees
Stock the Shelves is seeking volunteers and donations to continue its important work of providing Chicago area refugees the household and hygiene supplies they need. Here are some ways you can help:
Volunteer: Sign up to volunteer on Wednesday, September 27, 2023, at the Indo-American Center, 6328 N. California Avenue starting at 8am with unloading of the truck and set-up. Item distribution to refugees starts at 9am and ends by 11am. Distribution events are the fourth Wednesday of the month.
Donate: Or consider a donation. Monetary contributions are preferred as they allow us to procure the most-needed items in bulk and in quantities and sizes suitable for families. Monetary donations can be made via PayPal at www.stocktheshelves.org.
About Stock the Shelves: Every month, Stock the Shelves distributes thousands of new household and hygiene supplies to over 125 refugee families, nearly 500 people, in the neighboring West Ridge neighborhood. Items include diapers, feminine pads, toilet paper, soap, shampoo, toothpaste, deodorant, household cleaner plus other supplies used daily.
---
Check out our events calendar to find out more about what's happening in our community this month. Hope to see you around the 40th Ward!