The Western Avenue Corridor study will examine the land uses, development patterns, and circulation along this heavily traveled and diverse corridor.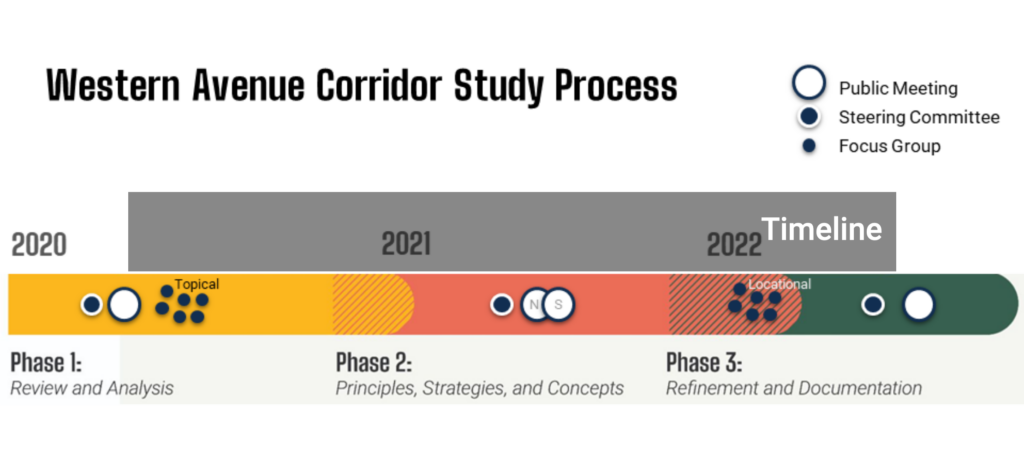 The Western Avenue Corridor Study is a community-based planning initiative led by the Department of Planning and Development (DPD) and the Chicago Department of Transportation (CDOT) to envision an equitable, long-term future for a five-mile section of North Western Avenue, from Addison Street to Howard Street.
The community-led planning process launched in early 2021. Key components:
Building consensus with the Western Avenue communities through a public planning process to establish a shared vision for the future
Reviewing and analyzing corridor attributes and conditions, such as land use, zoning, parking and bike facilities, pedestrian safety, public amenities, and more
Establishing a long-term vision for the corridor that includes future land use and zoning recommendations, design guidelines, potential public right-of-way improvements, and implementation objectives
Developing a "Resource Reference Guide" for corridor stakeholders that identifies available tools and City resources to promote growth and improvement of the corridor
Watch a recording of the final Western Avenue Corridor Study presentation from Oct. 6, 2022.