The arts have helped many learn to express themselves and be heard by the larger community. As we seek to develop the Lincoln Avenue North Arts District, we want to center artists from marginalized communities in an intentionally inclusive way that uplifts different experiences.
Lincoln Avenue North Arts District
In 2019, the 40th Ward Office began planning and development for a Lincoln Avenue North Arts district. With support from the Department of Planning and Development and the Chicago Department of Transportation, we have involved local businesses and community members in reimagining Lincoln Avenue North, which will stretch from from Western to Catalpa. Learn more about active streetscape projects in the 40th Ward.
Ainslie Arts Plaza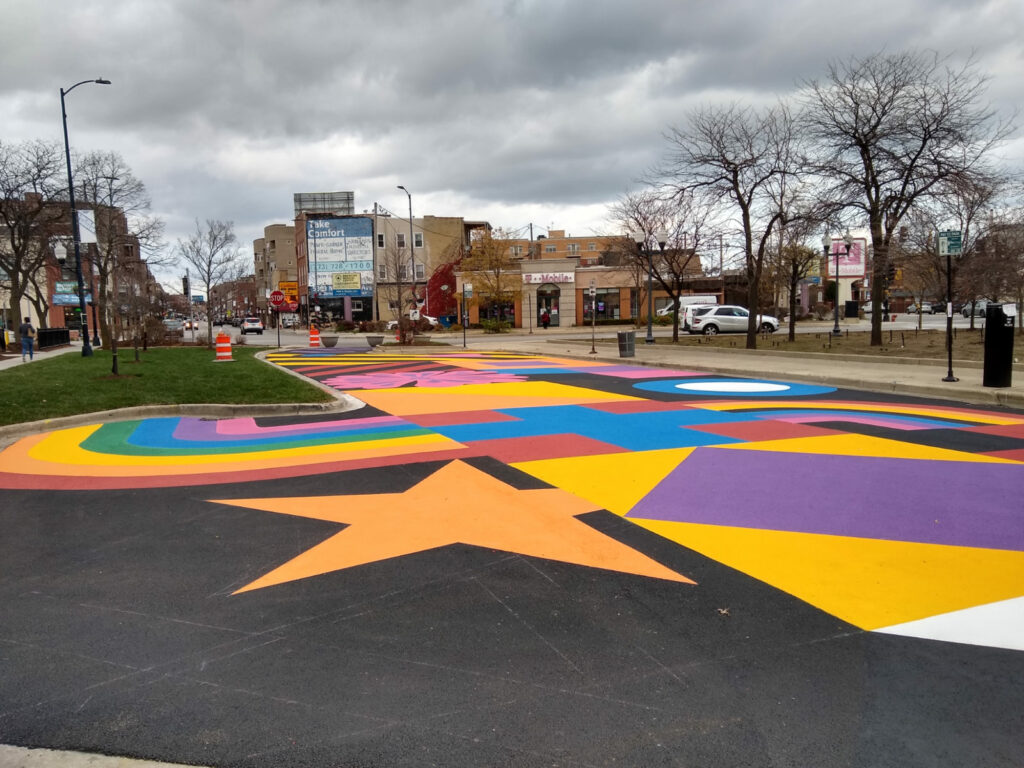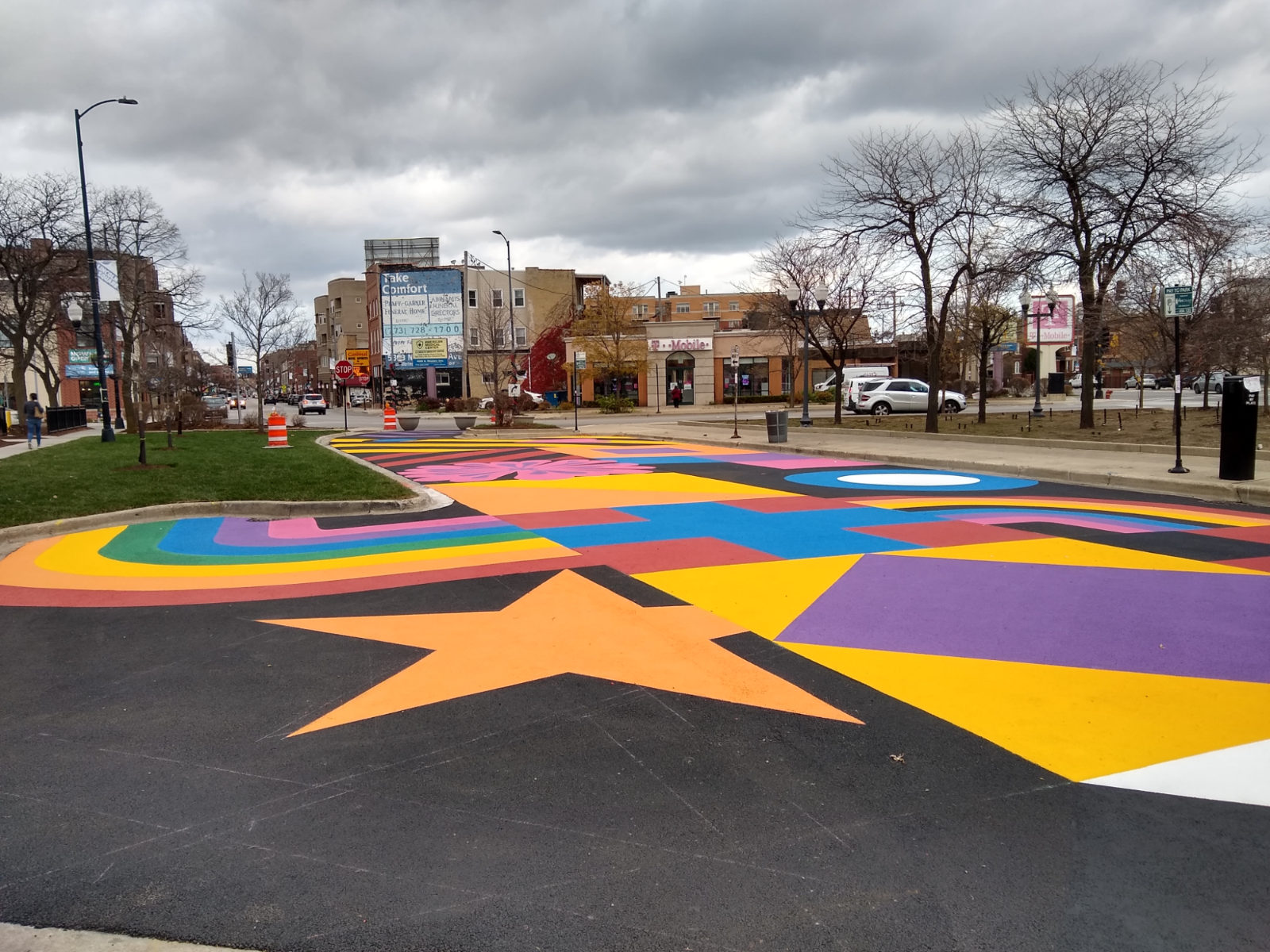 The Ainslie Arts Plaza (4800 block of Lincoln Avenue) has converted an underutilized parking area into a pedestrian plaza with seating, newly installed landscaping and lights, and a street mural titled "All Shapes and Colors" painted by artist Andrea Jablonski. During warmer months you can find a weekend Makers' Market with artisans offering their products for sale, live music pop-ups, and evening movies being shown. In addition to events, Chicago-based artist opportunities will become available throughout the year made possible by the Lincoln Square PaintWorks program. Permanent installations for the space will be made based on community support.
The Ainslie Arts Plaza is space for all. If you have interest in hosting an activity, event, or group gathering at the Plaza, the Lincoln Square Ravenswood Chamber of Commerce manages the plaza event calendar and can assist you with planning, permits, and more.
Media and Press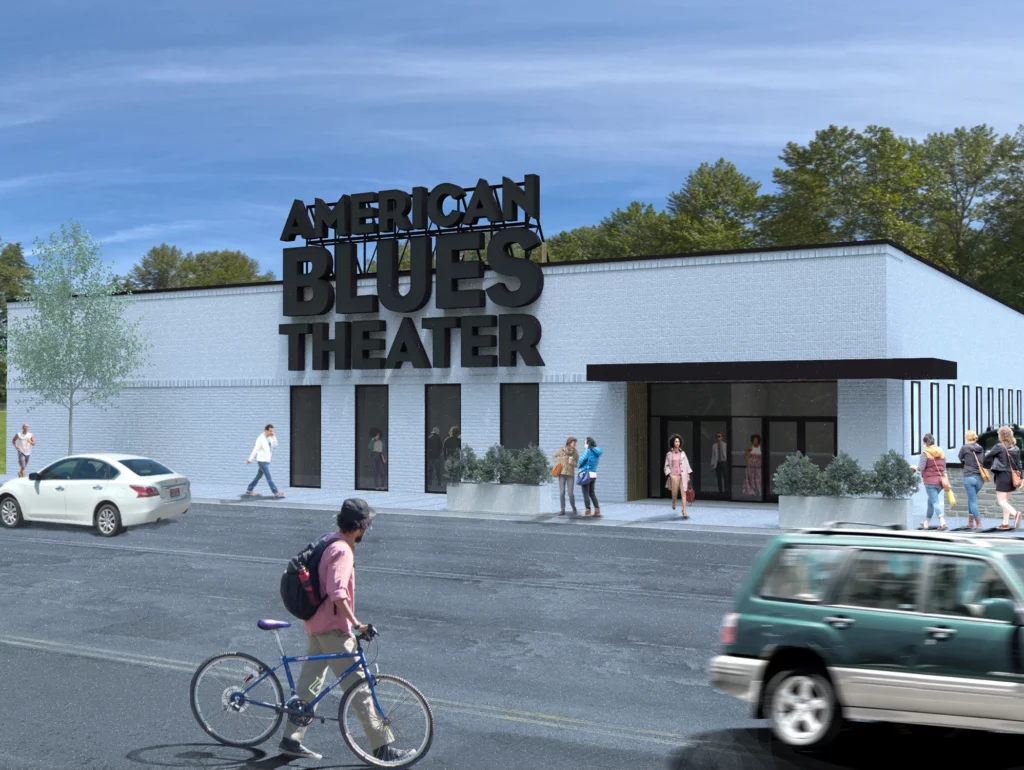 American Blues Theater
Address: 5627 N. Lincoln Ave. (pending construction)
Website: https://americanbluestheater.com/
Scheduled to open in 2023, American Blues' new home will be the "crown jewel" of the burgeoning North Lincoln Avenue arts district. The 17,965-square-foot property at 5627 N. Lincoln Avenue was formerly a Mobil gas station, Walgreens and Dollar General. The new venue will include two theaters, one a 148-seat proscenium and the other a 40-seat flexible studio.

Read more in BlockClub Chicago.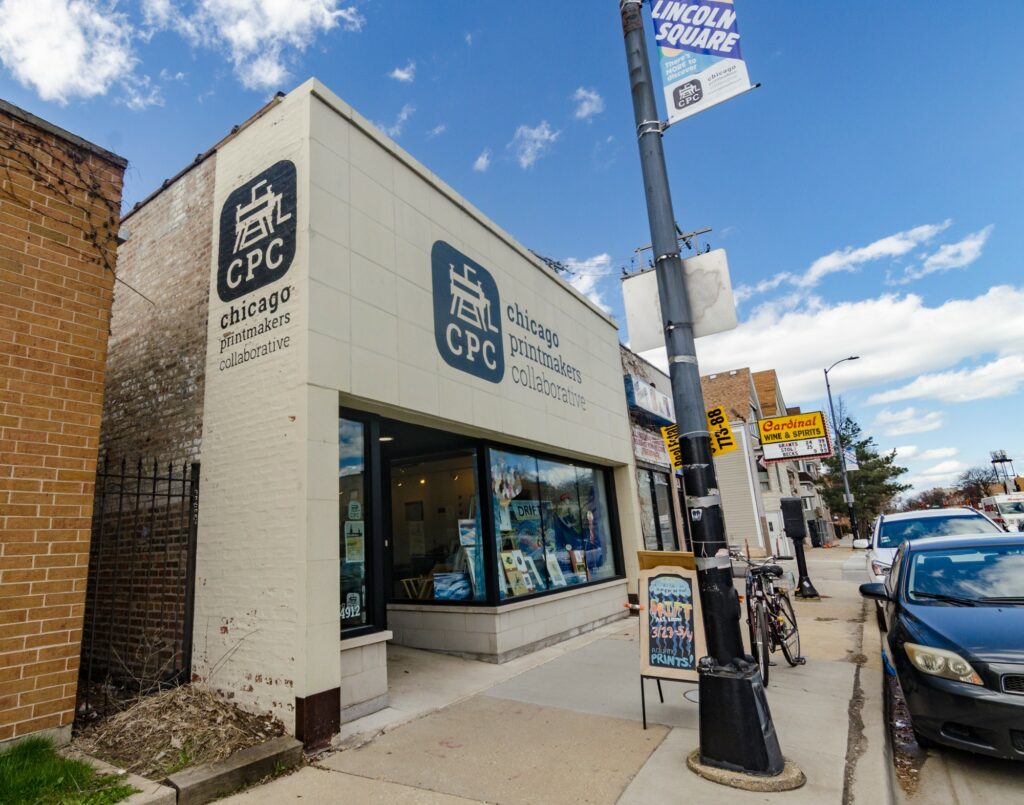 Chicago Printmakers Collaborative
Address: 4912 N. Western Ave
Website: https://chicagoprintmakers.com/
Founded in 1989, Chicago Printmakers Collaborative (CPC) is the city's longest running independent printmaking workshop (the workshop occupies the former Penn Dutchman Antiques building). Promoting the art of handmade printing through affordable shop access, classes, workshops, lectures and exhibitions, CPC provides facilities for traditional print media, including etching, stone lithography, relief, book arts and screen printing. The CPC gallery features fine art prints from around the world—from concert posters to cityscapes—that showcase the compelling beauty of the hand-inked impression.
Photo by Eric Allix Rogers
Art Galleries, Museums and Cultural Centers
Experimental Sound Studio is a Chicago-based nonprofit organization dedicated to artistic evolution and the creative exploration of sound. As an international hub for sonic experimentation, ESS nurtures artists, heralds new works, and builds a broad, supportive community of makers, enthusiasts, and creative partners through production, presentation, education, and preservation.
---
CIADC is a not-for-profit organization that provides education, working access, and community for 3D object makers whose materials and processes require industrial workspace, specialized skill-sets, and shop equipment. The gallery features rotating year-round exhibitions which include work from all departments.
---
DANK-Haus German American Cultural Center is a cultural organization located in the Lincoln Square, Chicago community area. Founded in Chicago in 1959, it seeks to preserve and promote German and German American culture through maintaining a center consisting of a museum, art gallery, library, and language school, and organizing educational and social programming.
---
The Ethiopian Community Association of Chicago(ECAC) is a not-for-profit, non-political, tax-exempt organization committed to serving the educational, cultural, psychological, and socio-economic needs of Ethiopians in Chicagoland and the surrounding areas. ECAC also responds to the needs of other similarly situated groups who might seek its services.
---
Glass Apple Theatre curates productions that combine theory and theatre to create works of art that challenge the medium, entice audiences and create an impact on its community. With works from Brecht to Shakespeare, and theories from Artaud to Stanislavski; each production is an interrogation in creation and form, challenging our strongest artists and audiences to think outside the box.
---
Las Manos gallery has been a presence in the Andersonville area for 18 years. Our particular aesthetic spans all media. We are dedicated to quality curation, taking pride in supporting the activity of emerging and mid level artists. Active in the community and the area.
---
The Leather Archives & Museum was founded by Chuck Renslow and Tony DeBlase in 1991 as a community archives, library, and museum of Leather, kink, fetish, and BDSM history and culture. The museum hosts guest artists and events.
---
Music House is a family-owned & operated performing arts school dedicated to serving families in the Chicagoland area and beyond. Established in 1951 in Chicago's West Rogers Park neighborhood, Music House is committed to providing thoughtful, quality programming and ensuring our offerings are inclusive, diverse, convenient and financially accessible.
---
The National Cambodian Heritage Museum is a tribute to the rich heritage that dates back more than 4,000 years, and provides a permanent and secure home in Chicago for the culture that was almost lost during the Vietnam War and Cambodia's own civil unrest.
---
Raven Theatre tells stories of today and the past that connect us to our cultural landscape. Raven's commitment to modern drama in all of its forms, as well as its first-class education programming, have helped it remain a cultural cornerstone on the north side of Chicago for 39 years and counting.
---
The Swedish American Museum has been active for over 40 years in the heart of Andersonville. Andersonville, the "Little Sweden" of Chicago, is one of the most concentrated areas of Swedish heritage in the United States, with Swedish roots dating back to the 19th century. Our 24,000 square-foot cultural museum features two gallery spaces with special art exhibits.
---
Grants, Opportunities, and Resources
40th Ward Arts & Access Grants
Our office launched the "40th Ward Arts & Access Grants" as part of Chicago's ward microgrant program in 2022. The program allocates $100,000 for each ward office to fund projects focused on enhancing local communities. Of the funds dispersed in 2022, $20,000 was allocated to the Lincoln Avenue North Arts (LANA) & Cultural Programming Grant.
Chicago Artists Coalition: Resources
Originally part of DCASE programming, this comprehensive resource for creative jobs, spaces, grants, and exhibitions is currently managed by the Chicago Artists Coalition (CAC). CAC is a non-profit organization that supports contemporary Chicago artists and curators by offering residency programs, exhibitions, professional development and resources that enable them to live, work and thrive in the city. View the site: https://chicagoartistscoalition.org/resources
Chicago Cultural Alliance
Chicago Cultural Alliance – Chicago Cultural Alliance is an active consortium of over 40 Chicago-area cultural heritage museums, centers, and historical societies.
DCASE Cultural Grants Programs
Throughout the year, grant opportunities for individual artists, community projects, and cultural organizations are open to Chicago residents. In most cases, you must not be enrolled in a graduate or degree program when applying. Learn more at the Chicago Department of Cultural Affairs.
Illinois Arts Council Grants
The Illinois Arts Council Agency serves the people of Illinois through a variety of Grant Programs and Special Initiatives meant to: support the Illinois arts sector, advance arts education, and foster creativity and working artists. Learn more at https://arts.illinois.gov
News & Updates: Arts and Culture
Contact the 40th Ward Office
Our office works to ensure you feel supported, connected, and valued. Please reach out with any questions or concerns you may have – we are here to help!