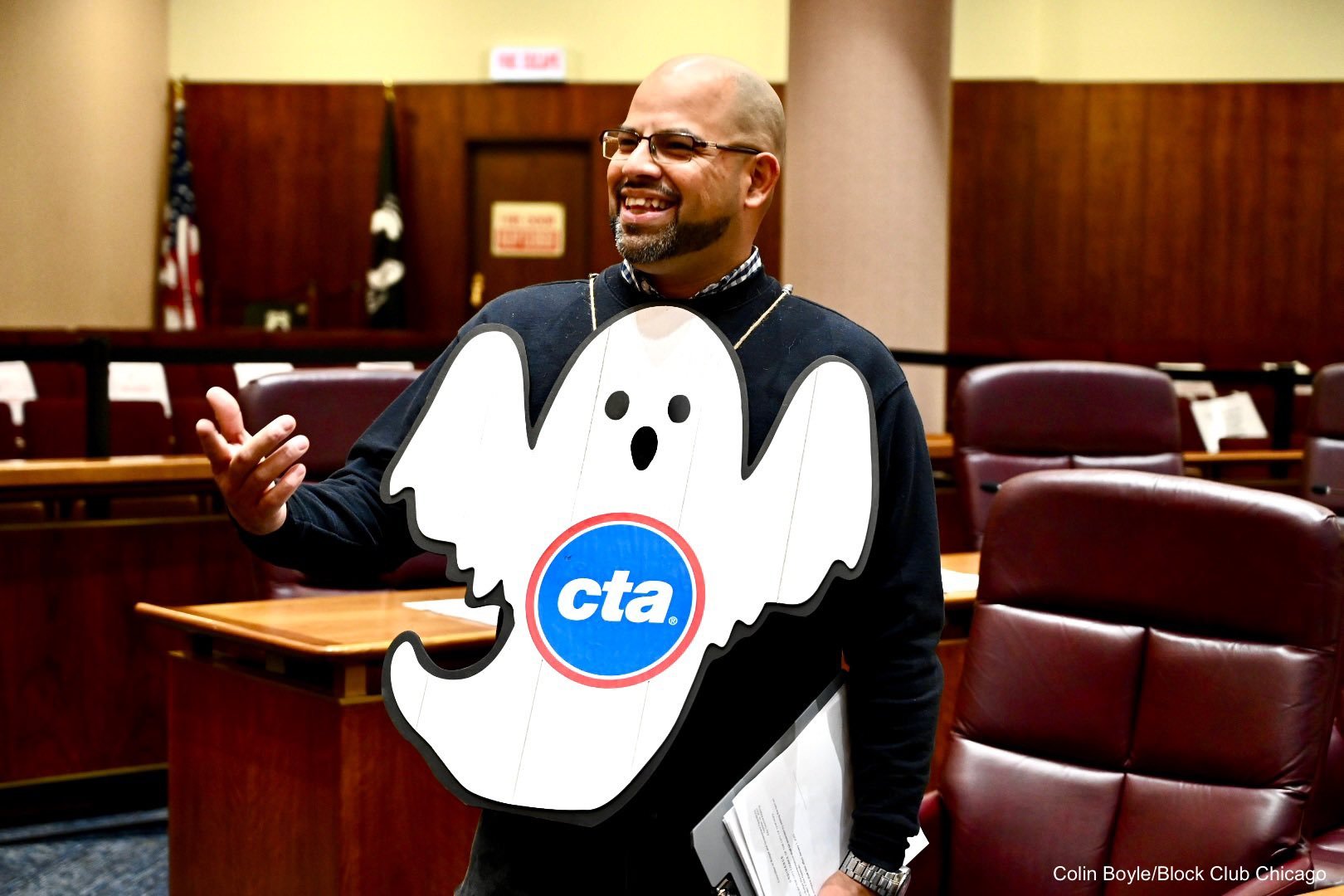 Ald. Andre Vasquez wore the Halloween costume as he's set to introduce a measure to require CTA leaders to give City Council quarterly updates or risk losing funding.

Read more: Lincoln Square Alderman Mocks CTA With Ghost Train Costume At City Council, BlockClub Chicago
This year, I showed the holiday spirit a little early at our City Council meeting on Sunday and dressed up as a "ghost bus/ghost train" as a way to highlight a problem that many of our 40th Ward neighbors (and people across the city) have been voicing everywhere – the lack of reliability and safety concerns associated with the Chicago Transit Authority. Since we have had hearings where the very President of CTA, Dorval Carter, hasn't shown up, I also introduced an ordinance requiring CTA and its President to report to the council.
In an effort to address the lack of reliability/safety concerns regarding CTA transportation and CTA President Dorval Carter's repeated inability to show up to City Council hearings, Alderman Andre Vasquez is introducing the Quarterly CTA Hearing Ordinance at the City Council meeting on Wednesday, October 26th to establish more accountability in a public transportation system in clear need of improvement.

The substantive language reads:

(a) The Committee on Transportation and Public Way shall hold at least one hearing each quarter regarding the service levels, operations and security of the Chicago Transit Authority (CTA). Officials from the CTA shall be available for testimony and the president of the CTA shall testify if requested by the Chair of the Committee.

(b) No member of the City Council or other municipal officer shall introduce, and no Committee of the City Council shall consider or recommend, any intergovernmental agreement with the CTA or other ordinance or order that disburses funds to the CTA in the succeeding quarter if the president and officials do not participate in any scheduled hearing required by subsection (a), unless disbursement of such funds is required by State law.

Alderman Vasquez explains, "In an environment where there is now lexicon for how unreliable our public transportation is – ghost buses and ghost trains – it is indefensible for the President of that very same system to "ghost" the City Council. Public Transportation is a Public Good – CTA and Chicago deserve a President who is invested and at the very least shows up!"

The ordinance is co-sponsored by Alds. Hopkins (2), Dowell (3), King (4), Garza (10), Cardenas (12), Quinn (13), O'Shea (19), Taylor (20), Rodriguez (22), Scott (24), Sigcho Lopez (25), Reboyras (30), Cardona (31), Rodriguez-Sanchez (33), Ramirez-Rosa (35), Villegas (36), Mitts (37), Sposato (38), Nugent (39), Napolitano (41), Reilly (42), Knudsen (43), Tunney (44), Martin (47), Osterman (48), Hadden (49), Silverstein (50)
We currently have 42 co-sponsors, and I won't rest until we have a level of accountability and this passed. You have my word!
Have you been ghosted by the CTA?
We want to hear about it! Commuters take Action is a new Chicago group dedicated to addressing bus and train shortages, delays, and dishonesty that are affecting all Chicagoans. The past year, buses and trains have been running at fractions of their scheduled service, sometimes not at all! If your train is making you miss your job or your bus is running 30 minutes late, visit Commuters Take Action to report it. They'll send your messages directly to the CTA Board and hold them accountable for all your lost time.
Learn more and get involved with Commuters Take Action at CTAction.org.
In the News:
"Everybody's late and everything smells like weed: What nearly 2,000 CTA riders told us," By Rebecca Holland for WBEZ, Jan 17, 2023