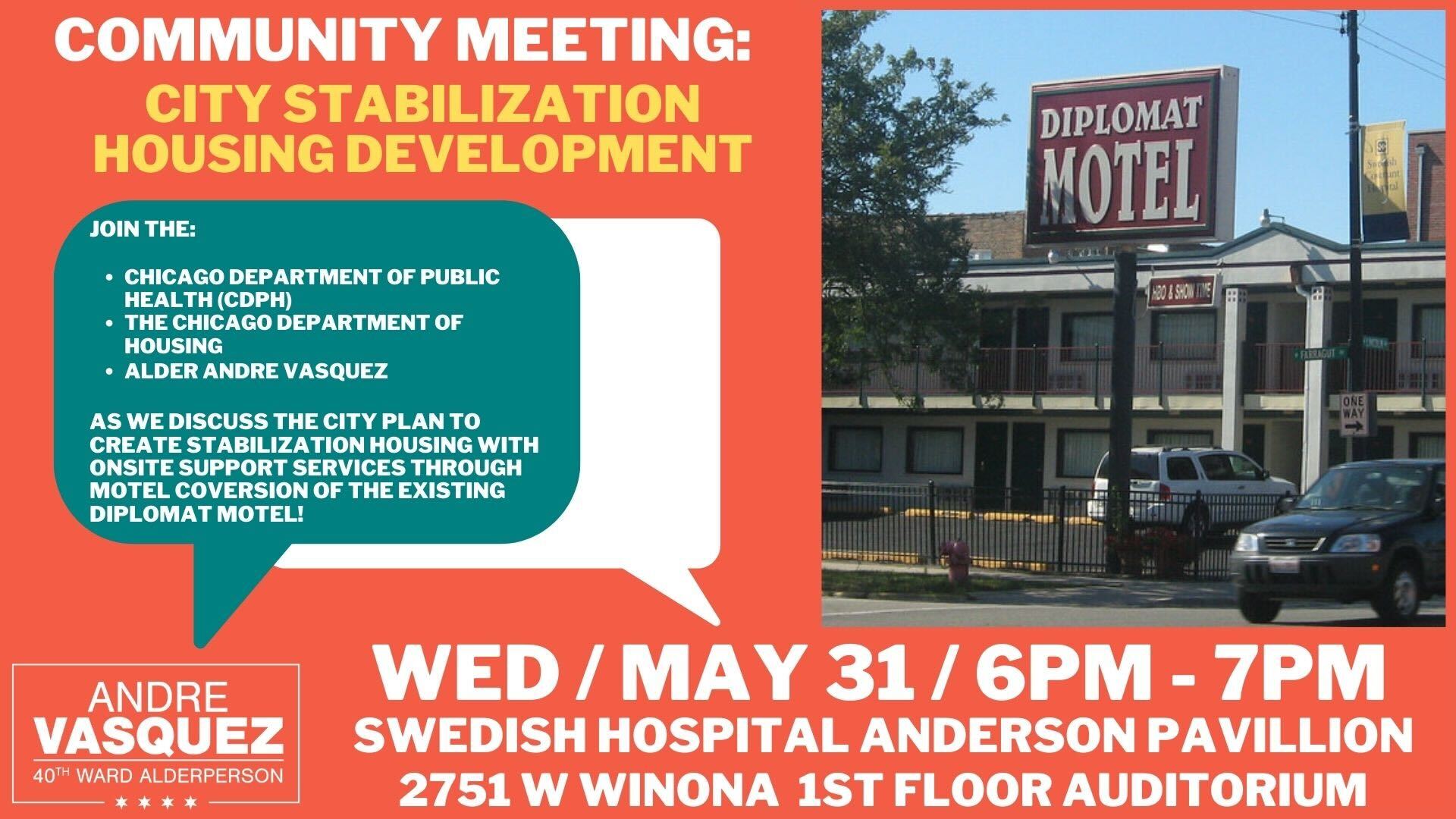 Community Meeting
On May 31st at 6 pm at Swedish Hospital Anderson Pavillion (2751 W Winona), our office will be holding a community meeting to present the redevelopment and conversion of the Diplomat Motel (5230 N Lincoln) into 40 units of stabilization housing for unsheltered neighbors in the 40th Ward.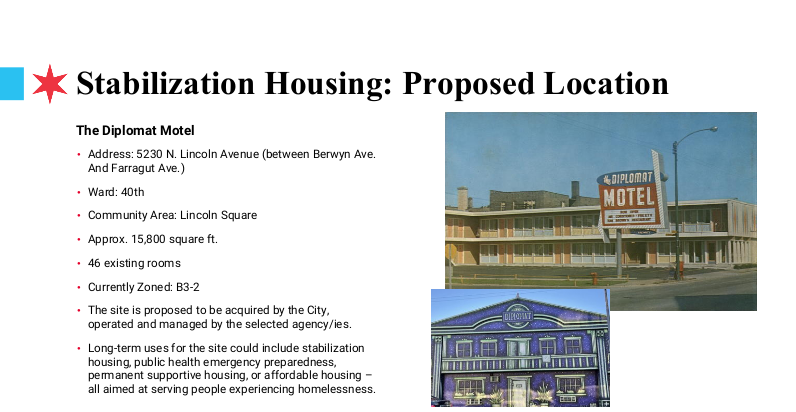 About the City Stabilization Housing Development Pilot
This redevelopment builds upon the successes of a pilot project started during the pandemic, when the city temporarily turned a hotel into supportive housing with services offered on site, which led to many neighbors ultimately finding job opportunities and stable housing.
Our office is in support of the City's Stabilization Housing Pilot Program, which we believe will bring much-needed services to our neighbors experiencing homelessness.
Benefits of Stabilization Housing and Access to Social Services
Residents staying at the Stabilization Housing at the site will each be given their own private room and will stay on site receiving services until they are connected with permanent housing, which is fundamentally different then shelter sites that have been established in other part of town.
While living on site, neighbors will be able to access social services including mental health and medical care. This type of program focuses on offering support to unsheltered neighbors by giving them a consistent and private place to stay while they are able to find housing, employment, health services and anything else that is difficult to secure while houseless. During the previous pilot, CDPH and DOH found that on average residents are less transient and stayed for about 6 months before transitioning to permanent housing.
Create Infrastructure to meet Increased Housing Demand
Seeing that the current demand for housing has increased exponentially in light of hundreds of refugees being sent daily to our city from Texas and the associated impact to our current supportive housing infrastructure, it is crucial that we create and provide the housing to attempt to meet the need. If we do not create the necessary housing opportunities, we will see more people on the street, and more tents in our parks.
This pilot will also have a community referral system, so that those experiencing homelessness in our streets nearby can have a place to live as they find the stability to find long term employment and housing.
Related Articles:
Lincoln Square's Diplomat Hotel Could Become Transitional Housing For People Experiencing Homelessness, Block Club Chicago, May 16, 2023, by Alex V. Hernandez
The city plans to turn a Lincoln Avenue motel into a homeless shelter, Crain's, May 9, 2023, by Alby Gallun
People Who Are Homeless To Move Into Hotel Rooms During Outbreak, Block Club Chicago, May 23, 2020, by Kelly Bauer
Share your thoughts at our community meeting:
A community meeting to inform neighbors about the Stabilization Housing Pilot program, that will be developed and run by City of Chicago contracted agencies at the Diplomat Motel, will take place at Budlong Woods Library (5630 N Lincoln Ave) on Wednesday, May 31st, 2023 at 6pm.
5/12/23 Update: The meeting location has changed to the Anderson Pavilion at Swedish Hospital, date and time remain the same – Wednesday, May 31, at 6PM.